Afghanistan, Azerbaijan sign several agreements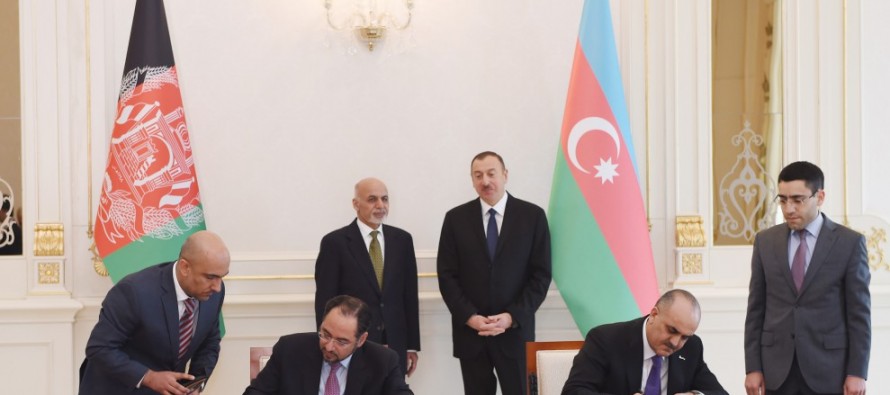 Afghanistan and Azerbaijan open a new page in bilateral ties and cooperation by signing several agreements following the meeting of the two countries' presidents on Tuesday.
In the sphere of labor, social protection and employment, an agreement was signed between Azerbaijani Ministry of Labor and Social Protection of Population and Afghanistan's Ministry of Labor, Social Affairs, Martyrs and Disabled. The agreement was signed by Azerbaijan's Minister of Labor and Social Protection of Population Salim Muslumov and Afghanistan's Foreign Minister Salahuddin Rabbani.
The two sides agreed on cooperation between Azerbaijan Television and Radio Broadcasting Closed Joint-Stock Company and the National Radio Television of Afghanistan. The Memorandum of Understanding in this regard was signed between Azerbaijani closed joint-stock company Arif Alishanov and Sultan Ahmad Bahen on behalf of Afghanistan's National Radio Television.
Afghan President Ashraf Ghani led a high delegation comprised of the foreign mninister, minister of finance, national security advisor, minister of trade and industry, labor and social security minister and other senior officials in his visit to Azerbaijan.
The purpose of his visit was to intensify cooperation between the two countries, which are bound with historical and religious links.
Azerbaijan' President Ilham Aliyev said Azerbaijan was interested in investing in Afghanistan's economy.
The country's state oil company SOCAR can tap the oil sector of Afghanistan and serve as initial guide for other oil companies. SOCAR has already assisted in the launch of an oil refinery in Mazar-i-Sharif in 2013.
The trade turnover between the two nations amounted to USD 173.76mn in January to October of this year, according to the Azerbaijani State Customs Committee. This figure is 22.2% less than the trade volume for the 10 months of 2014.
Azerbaijan is among the eight partner countries that have confirmed their presence in Afghanistan after 2014. Currently, some 90 Azerbaijani servicemen are serving as part of international forces security safety in Afghanistan.
---
---
Related Articles
Funded by the United States Agency for International Development (USAID), three new markets have been inaugurated in Maimana city of
1USD دالر 1 76.95 1 EUR 1 یورو 90.20 1 POUND 1 پوند 100 1 S.RIAL 1 ریال سعودی 20.20
The Registration Department of Imam Sahib district in Kunduz province now has newly renovated offices and new filing equipment following