Afghanistan to become WTO member on July 29, 2016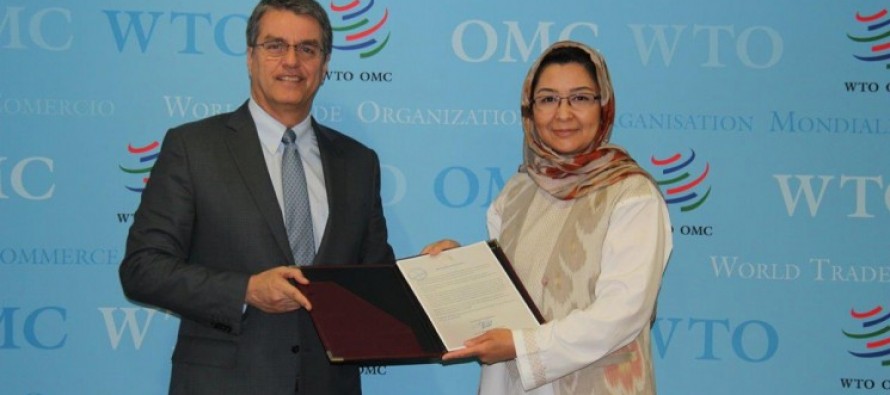 Afghanistan will become the 164th member of the World Trade Organization (WTO) on July 29th of this year, 30 days after the Protocol of Accession was ratified by the Afghan Parliament.
WTO members officially approved Afghanistan's accession at the Tenth Ministerial Conference in Nairobi on December 17, 2015 and the Protocol of Accession was signed between Afghanistan's First Deputy Chief Executive Mohammad Khan Rahmani and Director-General Roberto Azevedo.
Afghanistan is the 36th government and the ninth least-developed country (LDC) to join the WTO following accession negotiations since the WTO was established in 1995. Liberia, also an LDC, will meanwhile become the 163rd WTO member on 14 July. LDCs represent a fifth of the WTO membership.
1.
Application Received
21 November 2004
2.
Working Party Established
Chairperson:
Ambassador Roderick VAN SCHREVEN (Netherlands)
(May 2012 – November 2015)
H.E. Mr. B. J. van Eenennaam
(Netherlands, May 2009 – May 2012)
H.E. Mr. I. M. De Jong
(Netherlands, Dec 2005 – May 2009)
13 December 2004
3.
Memorandum
31 March 2009
4.
Questions and Replies
26 July 2010
5.
Meetings of the Working Party
31 January 2011
18 June 2012
7 December 2012
25 July 2013
11 November 2015
6.
Other Documentation
(a) Additional Questions & Replies
28 October 201
19 November 2012
31 October 2012
10 April 2013
7 June 2013
27 June 2013
2 July 2013
14 October 2013
21 October 2013
(b) Information on agriculture (WT/ACC/4)
29 October 2012
(c) Information on services (WT/ACC/5)
(d) SPS/TBT checklists (WT/ACC/8)
6 February 2012 (SPS)
26 April 2012 (TBT)
7 June 2012 (SPS)
(e) TRIPS checklist (WT/ACC/9)
28 October 2011
19 November 2012
(f) Legislative Action Plan
28 October 2011
6 June 2012
5 December 2012
15 July 2013
31 October 2013
3 March 2014
19 October 2015
7.
Market Access Negotiations
Goods Offer

(a) initial
(b) latest

14 November 2012
Services Offer

(a) initial
(b) latest

13 June 2012
8.
Factual Summary
3 May 2012
9.
Elements of a Draft Working Party Report
9 November 2012
14 November 2012
Draft Working Party Report
24 June 2013
29 October 2013
3 March 2014
19 October 2015
10.
Accession Package:

Report of the Working Party
Goods Schedule
Services Schedule

13 November 2015
13 November 2015
13 November 2015
---
---
Related Articles
Fédération Internationale de Football Association (FIFA) has invested in various projects to boost football in Afghanistan. Afghan football receives new
Afghanistan and Russia signed a memorandum of understanding (MoU) at their 2nd Joint Economic Commission (JEC) meeting on Tuesday,  aimed
A third electricity transformer has been installed in Jalalabad city of eastern Nangarhar province providing an additional electricity supply of