Afghanistan becoming self-reliant in honey production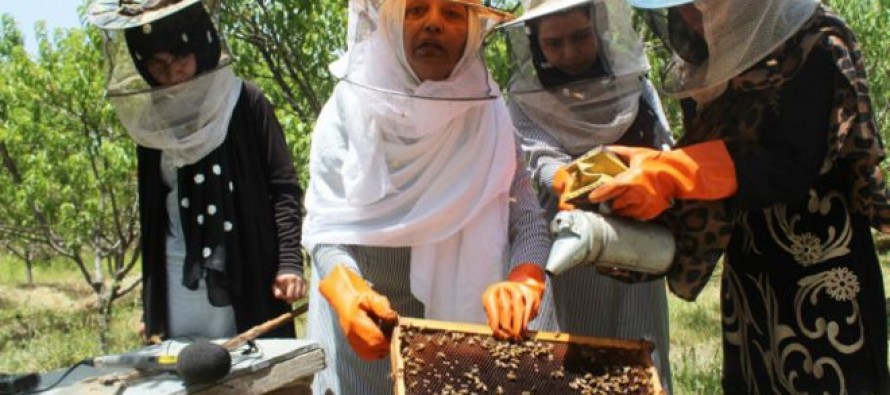 Afghanistan had an unprecedented production of honey in 2015, with producing nearly 2 million kilograms of honey.
According to the Ministry of Agriculture, Irrigation and Livestock (MAIL), Afghanistan needs an annual production of 5 million kilograms of honey . With the current production of 2 million kilograms, there is hope that Afghanistan is heading to self-reliance in honey production.
Three years ago Afghanistan produced about 1 million kilograms of honey, while last year the amount of honey production reached 2 million kilograms.
Afghan government plans to expand beekeeping in the country and provide better training for beekeepers to help develop the industry.
"Currently, 23,700 beekeepers are part of 10 beekeepers union, including 652 women, " said Arif Amaniyar, Director of Livestock at MAIL.
Amaniyar linked the increase in honey production to professionalization of beekeepers.
 According to Afghanistan Chamber of Commerce and Industry (ACCI), Afghanistan imports 40% of its honey needs. Presently, Afghanistan imports honey from Iran, Saudi Arabia, Pakistan, some European countries and the USA.
Meanwhile ACCI  voiced concerns at the substandard packaging and processing of honey in the country and considered it a deterrent to exports.
---
---
Related Articles
Addressing the international academic seminar on Energy Security of Afghanistan and Region held in Kabul, Asian Development Bank (ADB) Country
An economist is a surgeon with an excellent scalpel and a rough-edged lancet, who operates beautifully on the dead and
Three factories worth about USD 2mn were officially inaugurated in Herat's industrial park on Tuesday by Governor Mohammad Asif Rahimi.