Afghanistan better for theatre folk than Iran: Director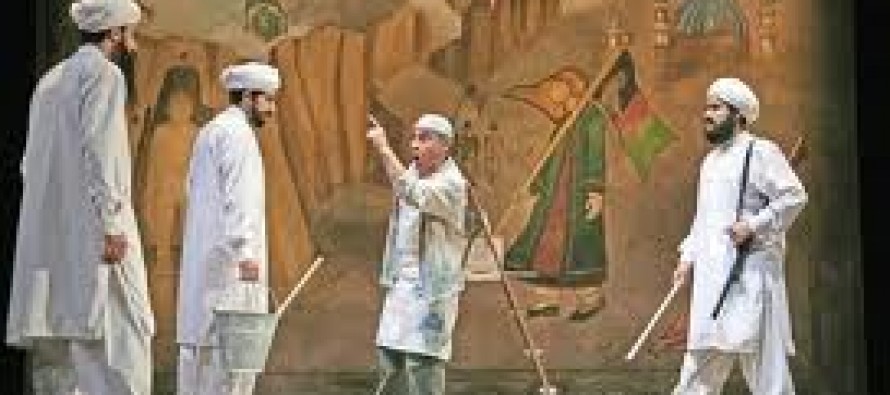 IANS-Eleven years after curbs on theater imposed by the Taliban were lifted, theater is making a comeback in Afghanistan.
The Taliban had curbed all performing arts during its rule, between 1996-2001.
These days, Afghanistan might be a better place for theater people than some other Islamic nations: "Afghanistan has no culture policy. It allows performing arts to have a free flow as long it does not offend religious sentiments and the cast does not kiss on stage. Afghans don't like to see actors kissing on stage. In Iran, a man can't even shake a woman's hand or touch a co-actor. The curbs do not come from the people, but from the government… I was forced to give up theater in Iran 10 years ago," says Iranian director Arsah Absalan.
The Iranian director is currently engaged in translation workshops with Azdar Theatre, Kabul. He was in New Delhi at the National School of Drama's annual theatre festival with a Persian adaptation of Dario Fo's "The Tale of the Tiger", a satirical play about a Chinese soldier nursed back to health by a tigress and a cub.
"People are coming out to watch plays, even though they have little money to pay for them," Absalan told IANS.
"Theatre as a cultural thing is finding support from among the people, who are dictating the culture policy of Afghanistan; this situation is unlike many other Islamic countries like Iran, where performance is still at the whim of the government, with official seal," Absalan said.
"I don't advocate cultural policy because it stops free flow of creative ideas with checks and balances," Absalan said.
Theatre in Afghanistan is closely grounded in tradition, the director said.
"Young Afghan playwrights are now translating western plays in Dari, one of the local languages. They like to use local idioms to relate to the audience," said Absalan, who has worked on cross-cultural projects like "Shale's Poison", "Archive" and "The Little Prince" in an indigenous space in a series of workshops.
"The Tale of the Tiger developed as a devised script by students of theatre in one such workshop," he said.
Azdan Theatre, the repertory company in Afghanistan that has hired Absalan, is one of the most prolific production troupes in Kabul. But it supports proscenium theatre with money earned from puppet shows across the country, manager of the troupe, Ahmad Nasir Formuli, a puppeteer, said.
"We do not depend on group or organisation funds. Theatre is difficult to sustain," Formuli said. The company's puppet projects are supported by foreign organisations like UNICEF and the Goethe Institute.
"We campaign about children's rights in schools across the Afghan countryside. The money we make is ploughed back to host mainstream theatre on stage," he said.
Besides fund constraints, the two most common problems that theatre faces in Afghanistan are "opposition from homes to women on stage in villages and absence of government support".
"The government is not unfavorably inclined to theater, but it is on the government agenda. It does not matter if theater officially ceases to exist," Formuli said.
---
---
Related Articles
The Afghanistan Research and Evaluation (AREU) has maintained its position as top research Think Tank in Afghanistan, while it has
A major aircraft maintenance workshop would be established at the Kandahar International Airport. According to Pajhwok Afghan News (PAN), the
On a working visit to Turkmenistan, Afghan Commerce and Industries Minister Mohammad Shaker Kargar met with Turkmen Foreign Affairs Minister