Afghanistan can contribute to the formation of a new Euro-Asia economic architecture: Karzai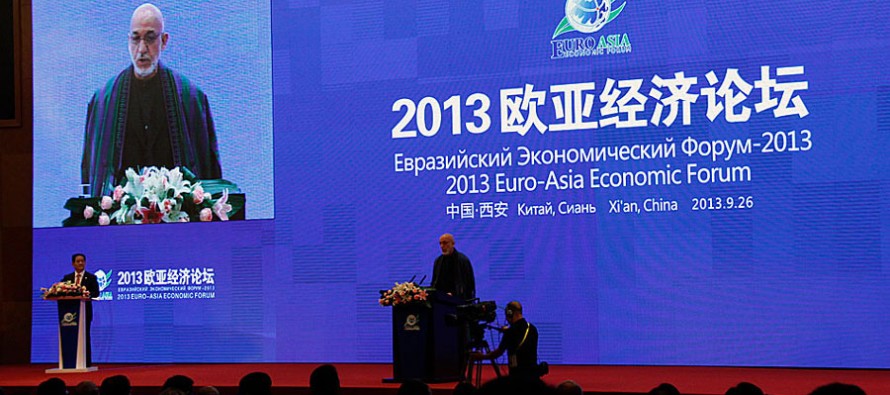 President Hamid Karzai attended the 5th Euro-Asia Economic Forum, which is held in China's Shaanxi Province under the theme of "Forum concrete Collaboration to Mutual Boom".
Sharing the investment opportunities and potentials of Afghanistan, Karzai emphasized on the strategic location of Afghanistan that enables Afghanistan to promote trade and transport links between European and Asian economic centers.
"Afghanistan is a natural land bridge for transit and commerce between east and west, contributing to the formation of a new Euro-Asia inland economic architecture," said Karzai.
He called for the development of the Silk Road, which Afghanistan will be a part of, and added that not only regional cooperation and integration but also global economic growth and security would sprout from this road.
"I encourage business participants at this Forum to explore business opportunities in Afghanistan, and to follow the example of the Metallurgical Company of China and the China National Petroleum Corporation by investing in Afghanistan," said Karzai.
The high-end international conference includes parallel discussion focusing on finance, energy, education, culture and tourism.
Initiated by the member states of the Shanghai Cooperation Organization, the Forum has made significant achievements in cross-regional cooperation, investment and trade.
The 3-day event aims to promote economic exchanges between Asia and Europe.
---
---
Related Articles
UNESCO officially announced the design competition to build the new Bamiyan Cultural Center in Afghanistan. UNESCO, together with the Government
A 100-bed treatment center for isolation and treatment of COVID-19 has been inaugurated in Jalalabad, Nangarhar. Nagarhar Governor Shah Mahmood
On March 6th 2013 the celebration of International Women's Day took place in Mazar-e Sharif, Balkh Province. The Secretary of