Afghanistan, China sign $204.9mn road construction deal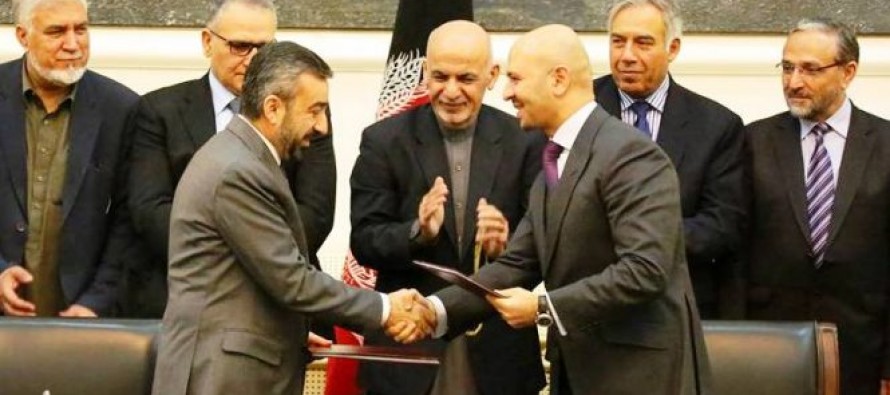 Afghanistan awarded the Dara-e-Suf to Yakawlang road project to a Chinese firm after its bid of USD 204.9mn was approved by the Afghan government.
An agreement to that effect was signed by Afghan Public Works Minister Mahmoud Baligh in the presence of Mohammad Ashraf Ghani on Sunday.
The signing ceremony was also attended by the head of the Asian Development Bank and some other high level government officials in ARG Palace.
According to Minister Baligh, the Chinese firm and a Turkish firm had participated in the bidding process.
"The contract was awarded to the Chinese firm after it completed all the stand norms and conditions for the project by offering the lowest bid that reduced the construction cost by almost USD 50mn ," said Baligh.
The head of the Chinese construction company promise to continue to support Afghanistan in its construction process.
Meanwhile, Director of the Asian Development Bank in Afghanistan, Thomas Panella, said the project was integral for internal transport in Afghanistan.
The head of the Chinese construction firm promised continued support to Afghanistan and the award of the contract to their company is the first step to participate in the reconstruction of the country.
---
---
Related Articles
Afghan government signed agreements with USAID-funded Independent Power Producers to support four renewable energy projects to increase access to reliable
The United States Government and the Ministry of Finance of Afghanistan signed a letter for the disbursement of $100 million
One of the world's largest accountancy firm, Ernst & Young, will remove its policy of requiring a university degree from