Afghanistan entering a new era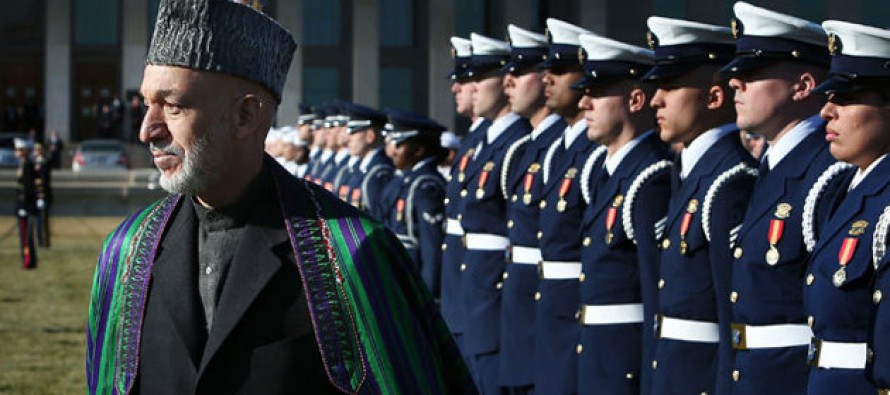 Speaking at Georgetown University in Washington, President Hamid Karzai emphasized that Afghanistan is leaving behind sufferings and conflicts and entering a new era—an era run by the Afghans themselves.
He urged the US government to stand by Afghanistan while reiterating that Afghans will be taking charge of fighting against the insurgency after 2014.
President Karzai expressed his optimism about Afghanistan's condition after 2014.
"I can tell you that the most recent period of the suffering of the Afghan history is behind us. A new period is beginning, has already begun, and that new period will be consolidated with 2014 coming, where your sons and daughters will no longer be burdened with protecting Afghanistan, where the Afghan sons and daughters will take the mantle and will move forward," Karzai told those gathered.
"Today, I'm glad to report to you, ladies and gentlemen, that us — the Afghans — and the United States government agreed on a format for expanding our relationship into the bilateral security agreement by which the United States will reduce its forces in Afghanistan, will stay beyond 2014 in a limited number in certain facilities in Afghanistan, and that the United States will continue to train and equip and assist Afghanistan and that Afghanistan will be responsible for its own security, protection of its own borders and all that comes with it."
President Karzai visited Washington to hold discussion over the effort to reach a security agreement between the two countries. The White House is currently considering the number of troops to be kept, with the leading options numbering between 3,000 and 9,000 forces, although earlier this week the possibility that no troops may be left behind was raised.
---
---
Related Articles
The officials of Da Afghanistan Bank (DAB), Afghanistan's central bank, announced on Thursday that 60% of Kabul Bank's stolen money
Governor of Herat, Daud Shah Saba, requested the advisor to Speaker Iranian Parliament, Hussain Shiekh-ul-Salam to expedite work on the
The US has pledged USD 249mn to the Afghan government for enhancing counter-narcotics effort, strengthening good governance and facilitating crime