Afghanistan, Germany debate international cooperation beyond 2014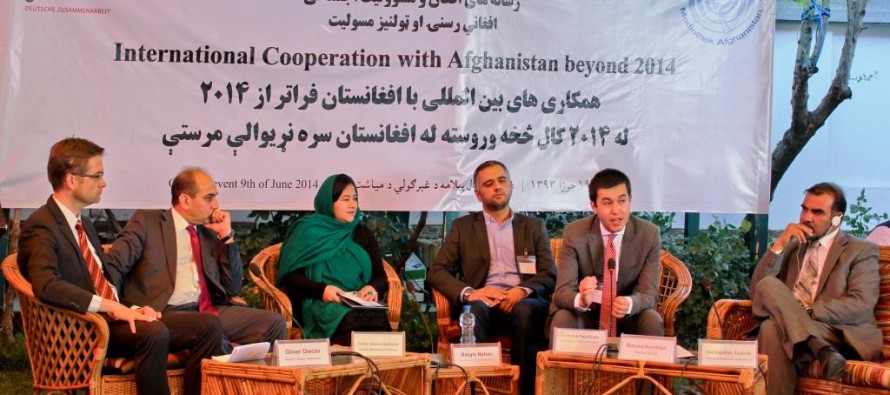 A Media Meeting at the Mediothek in Kabul introduced cheap viagra professional a new forum for discussing issues of political and social relevance for Afghanistan today and the future.
The kick-off panel brought together Oliver Owcza, Deputy German Ambassador, and Shafiq Ahmad Qarizada, Afghanistan's Deputy Minister of Finance, with Nargis Nehan, Director of Equality for Peace & Democracy, Siddiqullah Tawihdi, Director of Afghanistan Media Watch, and Masood Karokhail, Director The Liaison Office (TLO), to discuss "International Cooperation with Afghanistan beyond 2014". The panel was moderated by Lotfullah Najafizada, Head of Current Affairs at TOLOnews.
The panel touched upon various issues, ranging from government accountability in the transition process to anti-corruption, women's rights and the need for good news on development successes. The debate also focused on the role of civil society and the order viagra or levitra media in bringing these topics to light for the public.
Outlining Germany's strategy for civil cooperation with Afghanistan, Owcza stressed the importance of partnership between cialis viagra generic levitra pack sampler the Afghan Government, civil society and the international community. "A lot has been achieved," he said, answering the question of whether development cooperation makes sense, and added that, "We need to tell the good stories to convince those who do not believe we are living up to our commitments." Highlighting the need for economic stability and sustainability, Owcza added, "If Afghanistan manages to cheap metronidazole become prosperous and self-reliant, it can tackle the problems of unemployment and under-education. The Tokyo framework will act as our compass levitra without a prescription for the next ten years. To reduce our commitment would affect progress."
While civil society representative cheap cialis no prescription Mrs. Nehan agreed that Afghanistan has come a long way since 2002, she also emphasized the role of setting realistic targets for the government to achieve. She defended the Deputy Minister of Finance, saying that, "Security can affect efforts to control state institutions and reporting in the provinces. We now have to come up with methods and help the new administration put these into place to curb serious issues." Against this background, Karokhail of TLO said, "A key aspect in facing today's challenges lies in how civil society can bring us together to confront these problems. Social media and civil society have played a crucial role so far and grass roots organisations are taking on a great responsibility. The key lies in our youth."
Representing the media, Tawihdi of Afghanistan Media Watch added, "One of the greatest successes in Afghanistan is the media landscape, with a vast number of outlets." He explained that the media still need the support of the Afghan government and added, "The state should act upon criticism in the press. However, we can build on our achievements, especially in terms of the democratic freedom we have managed to secure."
Media Meetings 2014 – Afghan Media for Social Responsibility – are a series of regular events held by Afghan-German Development Cooperation with Mediothek Afghanistan. The meetings bring together a panel of experts from the government and public sector, civil society, development cooperation and the media, to discuss important development issues with the press. The Media Meetings are held in Kabul, with events in Balkh and Badakhshan.
---
---
Related Articles
Wheat price has soared in Jawzjan province due to a decline in wheat yield due to lack of rains and
Afghanistan, India and Iran are expected to sign the Chabahar Agreement on Establishment of the International Transport and Transit Corridor
The National Solidarity Program (NSP) of the Ministry of Rural Rehabilitation and Development (MRRD) has completed 36 infrastructure projects in