Afghanistan, India sign 92 projects worth $19.24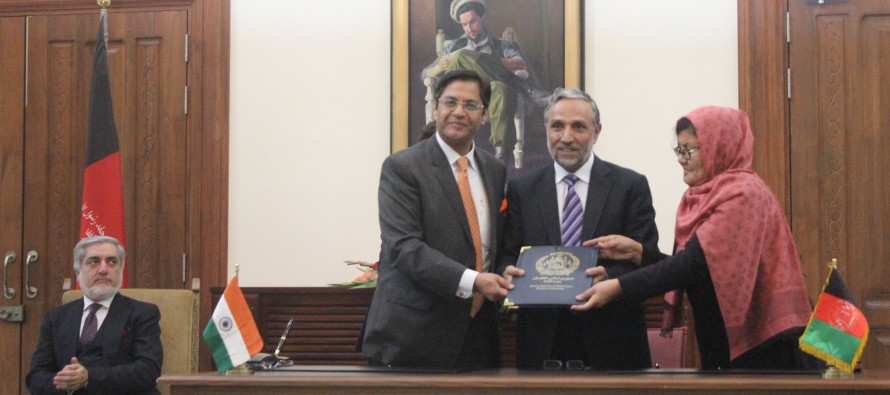 India and Afghanistan commenced yet another chapter in their development partnership by signing 92 more people-centric projects designed to improve the lives of the hard working and determined citizens across Afghanistan.
The Afghan Government has been making concerted efforts to develop the country under very challenging circumstances.  It is India's privilege to be a partner in this endeavor.
At a ceremony presided over by Dr. Abdullah Abdullah, Chief Executive of the Islamic Republic of Afghanistan(GoIRA) at Sapedar Palace, tripartite agreements were signed between Government of India, Ministry of Economy (GoIRA) and various implementing Ministries including Ministry of Agriculture, Irrigation & Livestock; Education; Higher Education; Labor, Social Affairs, Martyrs & Disabled; Public Health; Public Works; Refugees & Repatriation; Rural Rehabilitation & Development; Water & Entergy, Women Affairs, IDLG & General Directorate of Physical Education, for additional 92 projects worth US$ 19.24 million.
Another 87 projects worth US$ 25 million are under process of approval by Government of India.  It is expected that these projects would also commence in the near future.
It may be recalled that the Small Development Projects (SDP) scheme, with an initial outlay of US$ 20 million, was unveiled during Prime Minister Dr. Manmohan Singh's visit to Afghanistan in August 2005.  It covered a wide range of projects from installing hand-pumps to building schools, health centres, bridges, vocational training centres, retention walls, veterinary clinics, sanitation projects, minor irrigation projects, etc.  Under Phase I & II, 135 projects worth approx. US$ 19.8 million were sanctioned and majority of these have already been completed and are contributing to the wellbeing of Afghan citizens. In November 2012, the Government of India provided an additional sum of     USD 100 million for Phase III of the SDP scheme, also extending the assistance across all 34 provinces of Afghanistan.  Under this phase III, a total of 217 projects have been sanctioned so far (125 projects in September 2014 and 92 projects in March 2016).
Indian Prime Minister Modi in his recent visit to Kabul announced India's intention to again increase the Small Development Project scheme outlay to US$ 200 million by 2020.
---
---
Related Articles
Work on the construction of a 10-km road has officially begun in Paroon district of eastern Nuristan province. The road
According to officials of New Kabul project, implementation of a water supply project will be initiated in the coming year.
The Construction Companies Union (CCU) of Afghanistan claim that the construction sector has suffered USD 220mn in losses during the