Afghanistan, India sign MoU on 87 projects worth $25 million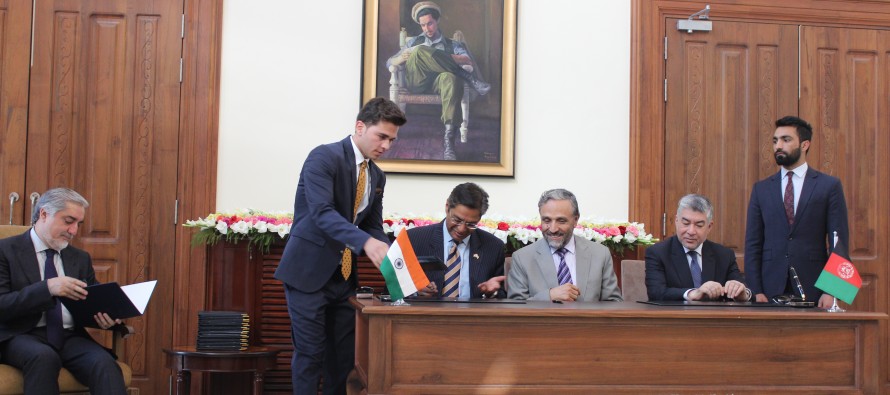 The Indian and Afghan governments signed a tripartite Memorandum of Understanding (MoU) for additional 87 projects worth USD 25mn under the Small Development Projects (SDP) on Wednesday.
A significant part of India's development portfolio in Afghanistan has been a special program to foster community-based Small Development Projects (SDP) in the fields of agriculture, rural development, education, health, vocational training, etc. that can have direct and visible impact on community life.
 SDP scheme was started in 2005 with an initial outlay of US$ 20 million.  Under this, 135 projects were approved and a majority of these have been completed.   In 2012, India provided an additional sum of USD 100 million for the SDP scheme, also extending it across all 34 provinces of Afghanistan.  Under this scheme, 125 projects were sanctioned in 2014 and another 92 projects in March this year.
The agreement on the additional 87 projects was signed between the Embassy of India, the Afghan Ministry of Economy and various line ministries in the presence of Dr. Abdullah Abdullah, Chief Executive of Afghanistan.
Government of India has decided to enhance the outlay further to USD 200 million by 2020.
---
---
Related Articles
The South Korean government has pledged to embark on a USD 1bn project aimed at building an efficient transport system.
Italy's Prime Minister said his country not abandon Afghanistan post-2014. Just as Afghanistan is sanguine about its betterment after 2014,
Set up in 1940, the New Baghlan Sugar Company (NBSC) is making a transition to the Afghan government's control. The