Afghanistan & Kazakhstan sign 2 agreements, 4 MoUs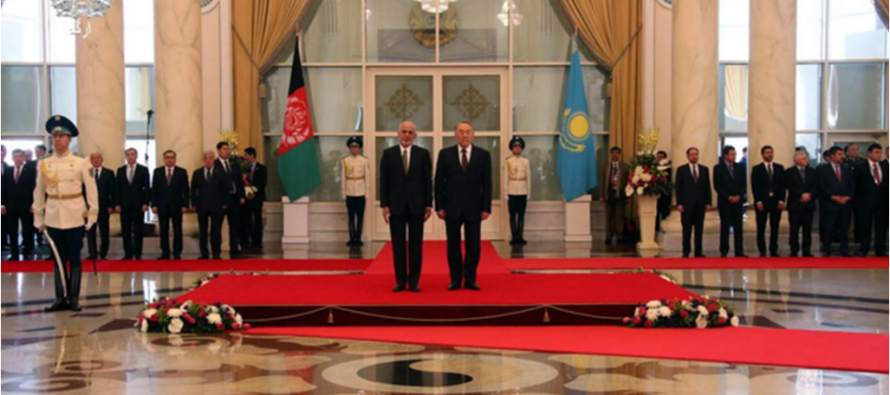 The Afghan and Kazakh government signed two agreements and 4 memorandum of understandings (MoUs).
According to a statement from Afghan presidential palace, the agreements were on cooperation in the fields of culture and civil defense and prevention and emergency response.
The four MoUs were signed between the following parties:
Afghanistan's Ministry of Agriculture, Irrigation and Livestock (MAIL) and Kazakhstan's national company, "Food Contract Corporation".
Afghanistan's National Standards Authority and Committee of Technical Regulation and Metrology of Republic of Kazakhstan
Afghanistan's Independent Administrative Reform and Civil Service Commission and Kazkahstan's Agency for Civil Service.
Afghanistan's Institute of Diplomacy and Kazakhstan's Academy of Public Administration
President Ghani headed a high-level government delegation for his trip to Astana. In his interview with Kazakh's Khabar Agency on the eve of his official visit to Astana, President Ghani noted that the main goal of the two countries is the development of comprehensive economy and trade relations.
---
---
Related Articles
Officials of Agriculture and Livestock Department in Takhar province have reported that the farmers have expected a 15% rise in
A multi-story market on the Maulana Jalaluddin Balkhi street in Mazar-e-Sharif was gutted by fire on Friday at around 4pm,
Reduction in the development budget has been a major issue for implementation of development projects in the country. Some of