Afghanistan mining revenue declines by 40%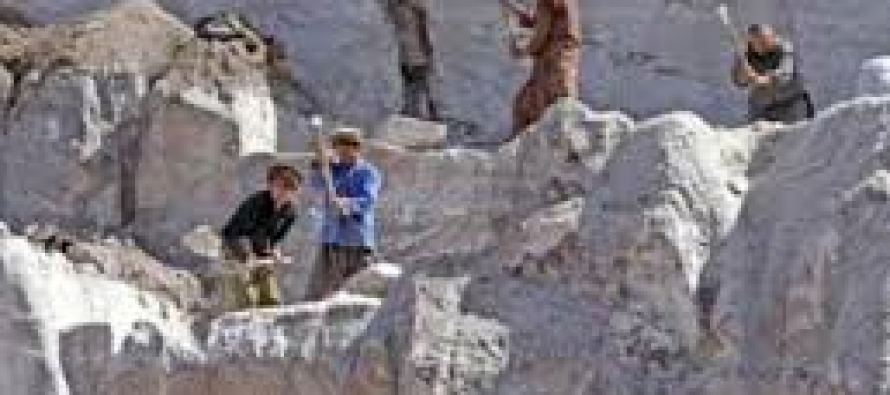 Afghanistan generated USD 50mn in revenue during the current solar year compared with last year's over USD 90 million, indicating a 40% decline.
In an exclusive interview with Pajhwok Afghan News (PAN), Deputy Mines Minister Ahmad Durrani said the decline in revenue was due to non-payment of USD 58mn by the MCC Company to the Ministry. The money would have been paid if the ministry had endorsed the company's technical and economic study, adds the source.
On the other hand, revenue from small mines has increased. Last year's revenue from small mines was around USD 6mn against this year's USD 9million, according to PAN.
Other reasons cited for the dip in revenue were time-consuming bidding process, stalemate facing approval of the new mining laws and delays in signing contracts.
Meanwhile, a member of the Lower House's Commission on Environment and Natural Resources, Gul Pacha Majeedi, slammed the Mines Ministry for their repeated failure in increasing revenue and accused them of lacking transparency in their work.
Illegal extraction of mines has been identified to be one of the major hindrances to the development of mining sector in Afghanistan.
Recently, Integrity Watch Afghanistan (IWA), a corruption watchdog, alleged that Afghan Local Police was involved in illegal extraction of chromite carried out in eastern Kunar province.
Economic pundits and civil activists have urged the government to protect the nation's natural resources from looting and abuse and to ensure transparency in awarding contract.
Afghanistan's mining sector could be vulnerable to the "resource curse" that has left other resource-rich development countries scarred by corruption or unsustainable extraction. Eyes are on Afghanistan's proposed mining laws that are expected to strengthen the country's mining sector.
However, a report by a campaign group Global Witness has highlighted flaws in the legislation. These include a lack of safeguards against corruption in the bidding process and no ban on militias or the army benefiting from mining.
---
---
Related Articles
Office of the Administrative Affairs claimed that local companies and officials in position of power are the main people triggering
The United Nations Economic and Social Commission for Asia and the Pacific (UN-ESCAP), which is the UN's regional development arm,
Five Afghan companies signed the first Public-Private Alliances (PPAs) with USAID in Kabul today. These companies have matched USAID funding,