Afghanistan National Industrial Conference and Exhibition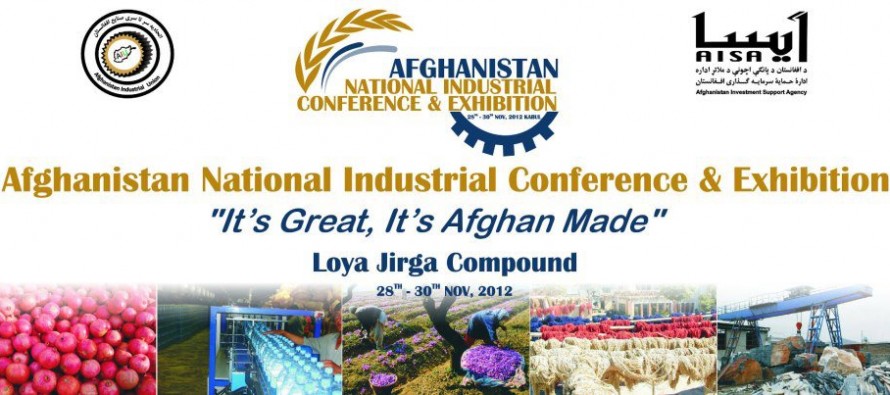 After the success which was made in the first Kabul International Exhibition, held in 2010 at the Loya Jirga tent in Kabul, the Afghanistan Investment Support Agency (AISA) is now planning to organize a conference and exhibition which will be the third of its kind with the theme of "The Rising Afghan Industry", to be held in November at the Loya Jirga Compound.
The conference will last for a day only on November 27, while the Exhibition will start on November 28 and will last for3 days.
More than hundreds of participants, some of whom would be from Afghanistan's important global trading partners would be attending the event.
The conference is aimed to be the best platform where the top industrialist, around ten Ministers, high ranking representatives of Foreign embassies, donor community, civil society and representatives of International and national media will get to gather for discussion on  the current  Investment climate of the country and jointly finding the ways out for the existing investment impediments.
 The Exhibition, which will be held paralleled to the conference would be the third of its kind since the dawn of the new era in Afghanistan, is aimed to serve as the platform for showcasing the developments of the Afghan industry sectors ranging from food industries, beverages, marble, assembling and dissembling sector, plastic production, pharmaceuticals, home appliances, printing press, and other light industries ranging from Agro processing (e.g. dairy products, cooking oil, raisins, juices and jams) Services (Banking, Advertising, Telecommunications, Information Technology, educational institutes, health care institutions and tourism industry) to Handicrafts (carpets, jewelries, precious and semi-precious stones) which truly deserve to represent the new face of this ancient and proud country.
---
---
Related Articles
With the support of Afghan-German Development Cooperation, the AgFair presents a wide range of new products and services for the
Pakistan's government had proposed establishment of a joint Afghan-Pak customs office for better management of Afghan trade through Pakistani ports.
Balkh officials have expressed their willingness to participate in the reconstruction process of Ghazni. Ghazni is preparing itself for the