Afghanistan, Pakistan discuss expanding trade volume at JEC meeting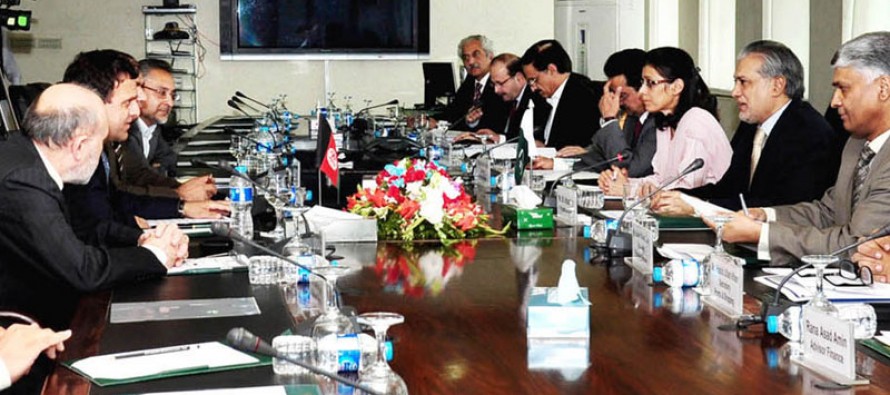 The agenda for the 9th session of the Pak-Afghan Joint Economic Commission focuses on expanding trade between the two nations.
Afghan Finance Minister Hazrat Omar Zakhilwal and his Pakistani counterpart Mohammad Ishaq Dar discussed options on increasing bilateral trade at the 9th JEC meeting that kicked off on Sunday in Kabul.
Dar called for enhancing bilateral trade and extending the bilateral trade agreement to include Tajikistan.
He also talked about expediting work on the projects funded by Pakistan and stressed the need for simplifying visa procedures for Pakistani businessmen and labor and added to take immediate measures for finalizing an agreement on avoiding double taxation.
Dar said Pakistan was committed to building Peshawar-Jalalabad Motorway and Peshawar-Jalalabad Railway link which would benefit traders of Pakistan, Afghanistan and the Central Asian states in a bid to improve trade and road connectivity.
Regarding Kabul-Islamabad relationship as a key player in the social and economic development of Afghanistan, Dar said Pakistan had undertaken a number of projects, including the 400-bed Jinnah Hospital in Kabul, a 200-bed hospital in Logar, Liaqat Ali Khan Engineering University in Balkh, Rehman Baba School and a hostel for 1,500 children in Kabul, Nishtar Kidney Hospital in Jalalabad and the dual carriageway from Torkham to Jalalabad.
Zakhilwal welcomed Pakistan's support and appreciated their role in reconstruction and rebuilding of Afghanistan.
Later, the two ministers visited Jalalabad and handed over to the Afghan government the Nangarhar Nishtar Kidney Hospital built by Pakistan at a cost of $7.5m.
They inaugurated the commencement of work on 75km Torkham-Jalalabad carriageway.
The joint commission meeting will conclude on Monday.
---
---
Related Articles
Azizi Bank, one of Afghanistan's largest private banks, has opened a branch for the first time ever in the capital
Afghanistan's finest fruits, nuts, and saffron went on display this week for buyers around the world at the world's largest
Fifteen students from Kandahar University graduated with a Masters of Public Health (MPH) degree. Two women were part of the