Afghanistan participates in Global Sustainable Transport Conference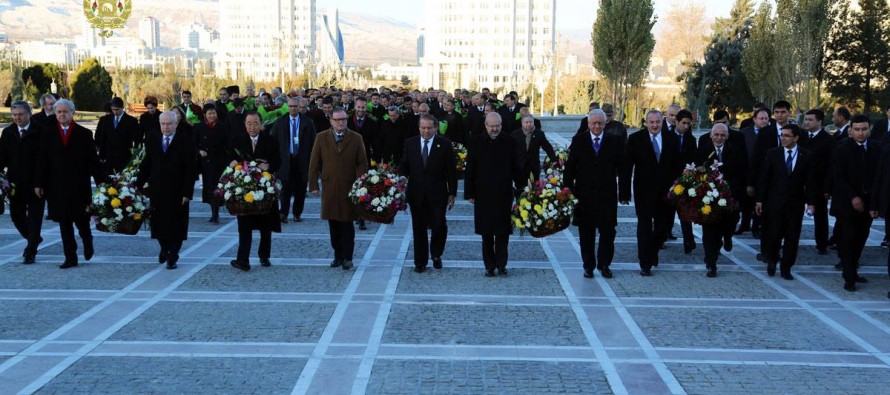 President Mohammad Ashraf Ghani presented Afghanistan in the Global Sustainable Transport Conference in Turkmen capital, Ashgabat.
Held on November 26-27, the first ever  global conference on sustainable transport brings together key stakeholders from Governments, UN system and other international organizations, the private sector, and civil society to engage in a dialogue that emphasizes the integrated and cross-cutting nature of sustainable transport and its multiple roles in supporting the achievement of the Sustainable Development Goals. All modes of transport-road, rail, aviation, ferry and marirtime–is addressed.
Addressing the Conference, President Ghani said Afghanistan had the potential for regional connectivity and sustainable transport development.
He emphasized on the need for developing transport infrastructure in developing economies and said integrated economies should embrace sustainable transport.
He said Afghanistan, owed to its strategic location in the region, offered opportunities for cooperation and initiatives in various fields.
The Global Sustainable Transport Conference builds on the intergovernmental discussions on sustainable transport. The outcome document of the United Nations Conference on Sustainable Development (Rio+20), held in 2012, stresses that transportation and mobility are central to sustainable development. It recognizes the need to promote an integrated approach to policymaking at the national, regional and local levels for transport services and systems to advance sustainable development.
Transport drives development – enabling trade, tourism, and economic growth and allowing people to access jobs, services, education and the interactions that help create fulfilled lives. Sustainable transport, by extension, drives sustainable development, advancing the people-centered goals at the heart of the 2030 Agenda for Sustainable Development while protecting and preserving the planet and its resources for generations to come.
---
---
Related Articles
By Ahmad Masoud: The unemployment and poverty levels have remained significantly high in Afghanistan where USD641.7 billion has been spent
The Central Bank of Afghanistan, Da Afghanistan Bank, sold a total of USD 36mn to Afghan money exchangers at Sarai
On 21st May 2013 the pilot of Afghan crime series Inspector Amanullah was screened to a high profile audience at