Afghanistan participates in India's biggest stone industry expo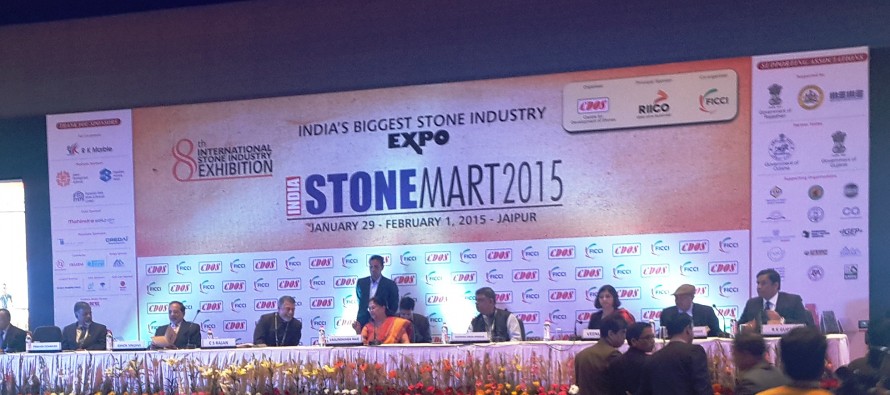 Afghanistan Marble industry is still at a nascent stage and modern excavation techniques are not in vogue. This sector is growing at a rate of 60% annually since 2008, according to AISA. Afghanistan has huge deposit of marble and granite, but investment in this sector remained poor primarily due to lack of favorable enabling environment, security situation and lack of information to potential investors in these sectors. USGS GPS survey 2009 reported Afghanistan has 66 marble and granite reserves; and according to some studies, Afghanistan has 9 billion tons of reserves. US Geological Survey estimated Afghanistan's marble reserve to the tune of $ 200 billion. Afghanistan's current production is estimated to be over 200,000 tons and has the potential to grow exponentially.
Afghan marble producers have not invested to improve the quality. Afghan quarries mostly employ blasting method for extraction as opposed to modern methods. Cutting and polishing is mostly done using hammers. Investment in machinery and technology will improve the quality of Afghan marble that can fetch premium price in the world market.
Considering this, Indian Embassy with the support of USAID/ATAR and Federation of Indian Chamber of Commerce and Industries (FICCI) decided to send 16 Afghan marble producers and traders to participate in India Stone Mart (29 Jan– 01 Feb 2015) to link them with international buyers and technology providers in this sector. India Stone Mart 2015 held biennially at Jaipur is one of the largest international expositions on stone industry showcasing the world of natural dimensional stones, ancillary products and services comprehensively. This event is jointly organized by Center for Development of Stones (CDOS), India and FICCI. It provided Afghan marble producers and traders an excellent platform to promote their products, services and brand image amongst the consumers from across the globe and establish business linkages.
In order to give impetus to Afghanistan's Stone industry, FICCI arranged to set up 16 stalls for the Afghanistan pavilion under the Trade Commerce and Investment Confidence Building Measures of Heart of Asia process. During the exhibition and follow up visits to marble processing facilities in Rajasthan, a total of $ 12 million worth potential deals for 16 Afghan businesses were materialized. Two Afghan businesses identified machinery for cutting and polishing of marble from Rajasthan Udyog, an Indian machinery manufacturer. These machineries are expected to be shipped in the course of next three to four months. Center for Development of Stones (CDOS), a premiere institution for development of stone industry in India expressed willingness to work with Afghan businesses and institutions to build capacity in this sector. R K marble, one of the largest producers of marble in India, has shown interest to buy as much marble as it can be supplied by Afghan businesses. USAID/ATAR also organized a visit to three factories in India coinciding with Afghan participation in India Stone Mart. This was very successful and generated interest among participants to invest in machineries for cutting and polishing. FICCI, ATAR and Afghan Marble Association have also planned to organize a capacity building program for Afghan Marble Industry with assistance from UK AID (DFID) and USAID / ATAR.
---
---
Related Articles
The High Office of Oversight and Anti-Corruption (HOO) have begun investigating the land-holdings of about 70 top Afghan officials, after
The technical committee of the National Norms and Standards Agency has approved 150 standards in 13 production sectors to improve
 Afghan Labor,  Social Affairs, Martyrs & Disabled Deputy Minister Suraya Paikan said the government would work to provide work opportunities