Afghanistan publishes its first textbooks for teaching future civil servants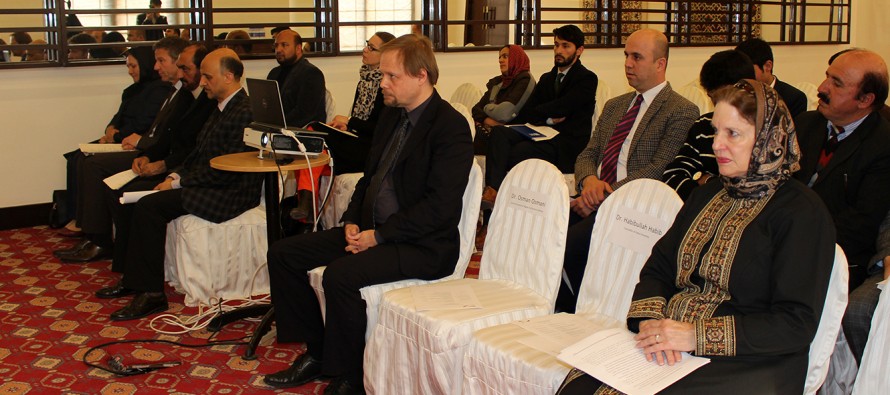 The Afghanistan Civil Service Institute (ACSI) published two new textbooks for teaching Afghanistan's next generations of civil servants.
The books were developed by ACSI as learning materials to train civil servants throughout buy cheap generic viagra the country in Independent Administrative Reform and Civil Service Commission (IARCSC) training programs. Faculties of public administration will also use the course books as part of their syllabus taught to over 2,500 students at the universities of Balkh, Herat, Kabul, Kandahar and Nangarhar.
 As the books are used both in academic and in-service training, both groups of students get the same practical explanations of the Afghan public administration process as well as some history of how the sector developed before going on to work as qualified civil servants in Afghanistan's public sector.
The books were published with support from the German government's program for strengthening public administration (SPA) education. Recently, the program had also helped nearly all of the first 442 graduates of the course in public administration overnight canadian viagra start internships in government agencies.
At the launching ceremony, Germany's Ambassador to Afghanistan, Markus Potzel, said, "When public agencies work well, they play a decisive role in their citizens' sense of security and overall confidence in government. These new textbooks – published in Afghanistan for Afghanistan's future civil servants – mark a significant contribution to the quality of training future civil servants receive."
Citing Singapore as an example of a government that managed to reduce corruption in its offices by raising government worker salaries, Potzel added, "Besides proper qualifications, proper pay is also important for government employees to do their jobs in service to citizens. I am confident today's students of public administration – tomorrow's civil servants – will have no difficulty in finding the right posts, with almost 61,000 positions still unfilled in Afghanistan's government offices."
Dr. Farida Momand, Minister of Higher Education, said, "Only three years after the Ministry of Higher Education had opened faculties for public administration at the universities of buy levitra online from canada Balkh, Herat, Kabul, Kandahar and Nangarhar, lecturers in this subject have already presented research papers. Last Great product and excellent customer support! Excellent price, prompt shipping, fair shipping price, and delivery right on schedule. Buying levitra online usa, online Canadian Pharmacy provides one of quickest and easiest ordering processes available oline today. year, Afghanistan held its first conference on Establishment of Sound Public Administration in Afghanistan. By the end of 2015, the first cohort of the 2,500 students now enrolled in this course have already completed their degrees and are ready to start working. Both our students and university lecturers have greatly benefited from the support of our friends from Germany. Now, together with our partners from the Independent Administrative Reform and Civil Service Commission (IARCSC), we can continue ensuring common standards for both qualifying and employing our future government officials."
Dr. Ahmad Mushahid, Chairman of the Independent Administrative Reform and Civil Service Commission (IARCSC), spoke about the importance of partnership with the German government in ensuring efforts to reform civil service in Afghanistan are successful.
"The textbooks published by the Afghanistan Civil Service Institute are a great boost to  the quality of instruction for civil servants around the country," said Dr. Mushahid.
The Federal Foreign Office of the German government is helping Afghanistan develop a more efficient public administration system, capable of providing services geared to citizens' needs. One specific measure to achieving this goal is to strengthen and improve the quality of training in public administration. Together with the Afghan Ministry of Higher Education, the program for "Strengthening Public Administration in Afghanistan" lays the necessary groundwork for standardized training for public sector official in Afghanistan.
---
---
Related Articles
The National Procurement Committee (NPC) claims to have saved 167mn Afghanis in contracts. According to a statement from the presidential
Da Afghanistan Breshna Sherkat (DABS) CEO, Abdul Razique Samadi inaugurated the solar power project in Bamyan province. Costing USD 14,150,000,
With a cost of more than 2,150,000Afs 2 sub-projects of the National Solidarity Program (NSP) of the Ministry of Rural