Afghanistan ranked 163rd by the Index of Economic Freedom of Heritage Foundation
Afghanistan  has made its first entry in the annual Index of Economic Freedom of The Heritage Foundation and is ranked 163rd place out of 186 countries.
This comes after Afghanistan became a member of the World Trade Organization (WTO) in 2016.
At the top of the list are Hong Kong (89.8 points), Singapore (88.6), New Zealand (83.7), Switzerland (81.5) and  Australia (81.0).
Scoring 48.9 points, Afghanistan is among the repressed economies at the bottom of the South Asian countries list.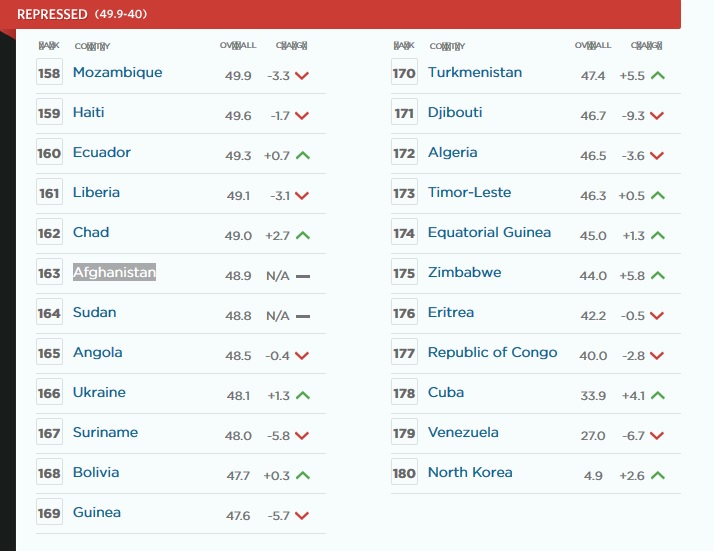 According to the Foundation, construction and agriculture have been the key contributors to economic expansion of Afghanistan.
It cited poor rule of law and endemic corruption as the main factors hampering the effectiveness of courts, the banking sector and other parts of the economy.
The Foundation further alleged that the presence of a large informal economy continues to diminish the development of a functioning labor market and added that the Afghan government has very limited influence on monetary policy due to the severe underdevelopment of financial systems.
"Processes for establishing businesses and obtaining necessary licenses are relatively streamlined, but other structural barriers persist," it said.
Economic freedom is the fundamental right of every human to control his or her own labor and property. In economically free societies, governments allow labor, capital and goods to move freely and refrain from coercion or constraint of liberty beyond the extent necessary to protect and maintain liberty itself. Economic freedom brings prosperity to a country through healthier societies, cleaner environments, greater per capita, wealth, human development, democracy and poverty elimination.
Economic freedom is measured based on rule of law, government size, regulatory efficiency and open markets.
---
---
Related Articles
The Afghan Ministry of Commerce and Industries has launched a survey of Kabul markets aimed at identifying the importers of
A women-only park has been opened in Kaarteh Mamorin of Aibak city in Samangan province. This is the first amusement
India's Ministry of Foreign Affairs has confirmed that the first flight of the Afghanistan-India air corridor is likely to operate