Afghanistan set to emerge as leading marble producer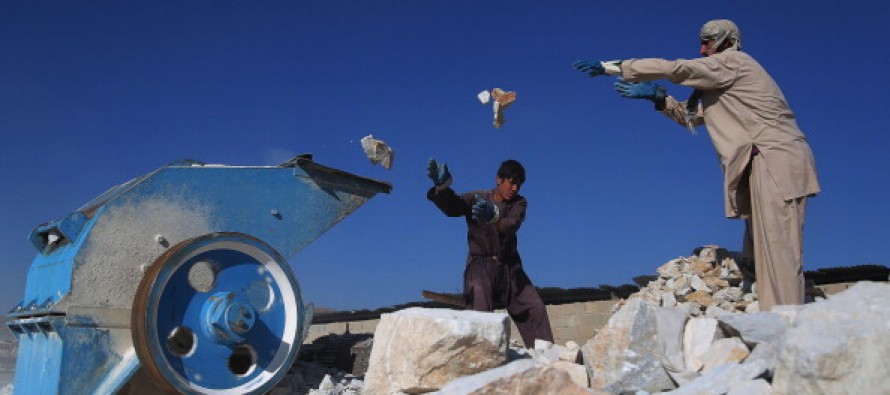 Afghanistan is home for a vast variety of marbles, and a wide range of them is currently being extracted from quarries in Kabul, Logar, Wardak, Badakhshan, Bamyan, Helmand, Heart, Nangarhar, Kandahar, Faryab, Paktia, Parwan, Ghazni and Samangan provinces.
As many as 40 marbles are being quarried, and over a hundred more have been identified and cataloged. This means there is great potential in the marble industry to advance and become an avenue toward the creation of new jobs and income for Afghanistan.
The export level of Afghan marble is currently valued at about USD 15mn per year, and could grow to a USD 450mn business with increase investment into the extraction and processing of Afghan marble.
Right now, about 80% of Afghan marble is transferred to neighboring countries, such as Pakistan, for processing.
A marble processing factory in Kandahar is paving the road for Afghanistan to emerge as leading marble producer.
In an interview with Pajhwok Afghan News (PAN), the marble factory owner in Kandahar, Ali Ahmad, said he invested USD 300,000 to establish the processing factory in Kandahar. Previously, the marbles wer sent abroad for processing.
The source adds that the marbles processed in Kandahar are attracting large number of customers.
According to Ali Ahmad, Afghanistan's high quality marble is set to rule the markets as marble deposits in China and Italy are about to finish.
He added the marble stones are sold at affordable prices, which discourage imports of foreign marbles.
The marble stones are brought to the processing factory from the Desho district of southern Helmand province, where one of the world's largest marble mine is situated. According to PAN, the Helmand marble mine is 175km long and 25km wide.
For more information on Afghanistan's marble industry, please visit the following links:
http://www.academia.edu/4890522/A_COMPREHENSIVE_STUDY_OF_MARBLE_INDUSTRY_IN_AFGHANISTAN
http://www.trade.gov/press/publications/newsletters/ita_0509/afghan_0509.asp
http://afghansociety.org/marble-could-become-a-rock-solid-investment
---
---
Related Articles
Kandahar revenue department has collected over 900 million AFN in revenue from local businesses and shopkeepers this year, compared to
US Deputy Ambassador Richard Hoagland and Additional Secretary Defense Rear Admiral Farrukh Ahmed signed the agreement on transit of cargo
Education Minister Ghulam Farooq Wardak inaugurated two schools buildings in the capital city of Kabul on Tuesday. The Qayamuddin Khadi