Afghanistan's 3-0 victory against Pakistan in Kabul friendly match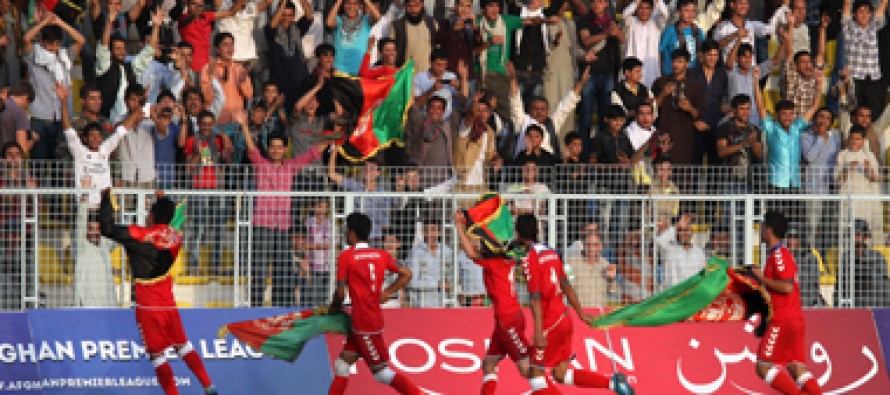 In a highly anticipated face-off between the national football teams of Afghanistan and Pakistan in Kabul on Tuesday, the Afghan team struck three unanswered goals against their south Asian rivals in a resounding 3-0 victory. With it being the first time in 37 years that the Pakistani side traveled to play in Afghanistan, after today's trouncing, it may be another long wait before they are willing to do so again.
The match in the Football Federation Stadium in Kabul kicked off at 4:00pm. But the first goal wasn't notched until midway through the first half when Sanjar Ahmad scored for Afghanistan with a one-touch finish off of a cross. In the second half, Arash Atefi and Mustafa Maroofi finished the Pakistani team off with two back-to-back goals to lift the Afghan side to victory. Maroofi's goal, the last of the match, was a blast from outside of the penalty box into the upper left corner of Pakistan's goal, leaving the Pakistani keeper with no chance and punctuating the Afghan squad's dominance.
Ahead of the match, Afghan team player Kaleemullah said, "winning or losing has no importance for us, we want to show the world that Afghanistan is able to host international football matches." With a large and well-mannered crowd, the smooth orchestration of Tuesday's game provided little doubt that the Afghan Football Federation (AFF) accomplished just that.
Although security concerns in Afghanistan remain on the mind of many, Tuesday provided an opportunity for thousands of spectators from various parts of the country to converge on Kabul and enjoy a day of sportsmanship and cheer on their national team. Thousands of Afghans tuned in to watch the game live on TOLO TV and Lemar as well.
"The match was organized with the support of FIFA as a friendly match, but this game was very important for us in hosting south Asian competitions and our own leagues," Kiramuddin Kareem, the Chairman of the AFF, told TOLOnews.
"The game between Afghanistan and Pakistan certifies the growth of Afghan football," one Kabul resident who attended the game said.
"Afghanistan has defeated famous south Asian teams in the South Asian Football Championship in India and it is clearly capable of defeating the Pakistani team," bragged another spectator.
Following the match, many attendants expressed their hopes that the match would help forge better relations between Afghanistan and Pakistan.
"The game can support close relations between the two nations," one spectator told TOLOnews.
"The Right and Justice Party (RJP) warmly welcomes peace loving and friendly programs between the two Muslim nations and considers them one of the fundamental needs of the two countries, because the RJP support the two countries expanding their cooperation and overcoming the political ups and downs through sport events and culture," a statement released by the RJP said. (Source: Tolo News)
---
---
Related Articles
In order to facilitate economic growth and job creation in Badakhshan province, the Provincial Development Council (PDC) with support of
A number of local businessmen voiced their concerns over lack of markets and storage facilities for their agricultural products, mainly
Ministry of Commerce and Industries announced Sunday that Afghanistan will soon sign agreement with countries situated along the Azure Transit