Afghanistan's energy future – a case of denial or ready for revolution?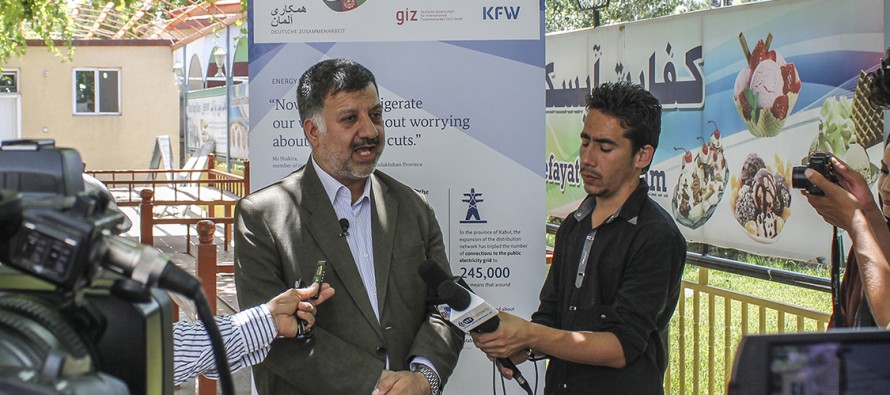 Afghanistan could produce more energy than they need. That was the conclusion of this week's Media Meeting in Mazar-e Sharif, hosted by the Social Association of Journalists in North Afghanistan (SAJNA) together with Afghan-German Cooperation. The meeting was on coverage of renewable energy in the Afghan press and concluded with journalists and energy experts agreeing that Afghanistan has great potential for energy production based on its natural resources. Sunlight and water could help the country not only become energy-independent but could also turn it into a major exporter of energy for its neighbours.
Energy experts Mr. Zabihullah Akhtari, Head of Technical Services at the Balkh Governor's Office and Director of Balkh Energy Working Group; Mr. Sayed Abubakr Mahmoodi, General Manager of Engineering & Planning at DABS in Balkh and Farhad Emal, expert on renewable energy from Afghan-German Cooperation, gave talks on the state of energy and access to power in Afghanistan. Moderated by journalist and presenter Ms. Niloofar Langar, the media meeting also saw Mr. Rahim Ibrahim, journalism teacher and civil activist, talk about the potential for expansion of cheap, reliable, widespread and green energy throughout the country. He also mentioned possibilities of cooperation between the energy sector and Afghan media.
Sayed Abubakr Mahmoodi opened the round of talks by saying, "Increasing environmental concerns, along with the mounting prices of oil and gas in global markets, have pushed the world toward renewable energies. There is a lesson for us too, because we as human beings are in the same boat." Zabihullah Akhtari continued by stating, "Balkh province, alone, pays around US$ 1 million a month to Uzbekistan for imported electricity. However, according to a recent survey by an international investment agency, Balkh could be energy independent using simple city garbage as fuel for biomass plants. Can you imagine what the situation would look like, if we utilized the 310 sunny days a year and install hydropower!"
Farhad Emal explained what Germany has done in terms of building hydropower systems in remote areas of Badakhshan, where there had never been electricity before. "In the evening of the same day, a pregnant woman gave birth to her child in the small clinic, under the very first electric lights. The baby was a girl and her mother named her 'Roshany' (meaning Light in Dari). I could see the shine of hope in the eyes of all villagers." Rahim Ibrahim touched upon successful cases of renewable energy in Afghanistan and how it is often unreported. He said, "A big issue in conservative societies like many parts of our country is that people persist against changes and new ways of life. Since electricity can totally transform their lives, they are doubtful about it. Media should launch awareness campaigns and spread a new electricity-friendly culture."
The panel of speakers also had the chance to answer questions from over 50 representatives from various national and local TV, radio and newspaper outlets. Asked about the government's future plans for renewable energy, Zabihullah Akhtari underlined the importance of private sector investment in the energy sector and the need of cooperation with media, to allow for a "revolution".
Journalists also asked Farhad Emal about the biggest German Cooperation achievement in renewable energy for Afghanistan. He concluded, "Probably the biggest achievement is a national comprehensive strategic policy together with the Ministry of Energy and Water. It has paved the way for investments in renewable energies, which ensures long-term development."
Media Meetings 2014 – Afghan Media for Social Responsibility – are a series of regular events bring together a panel of experts from the government and public sector, civil society, development cooperation and the media, to discuss important development issues with the press.
---
---
Related Articles
Work on the asphalting of Chehlsitton Road—a 3.3km road from Baagh Chehlsitton in District 7 of Kabul city to Bagh-e-Babur—has
With a cost of more than 5,816,000 AFN, ten projects of the National Solidarity Program of the Ministry of Rural
The Afghan-German Cooperation handed over two newly constructed school buildings and an additional boundary wall to the Department of Education