Afghanistan's exports up by 33%: ACCI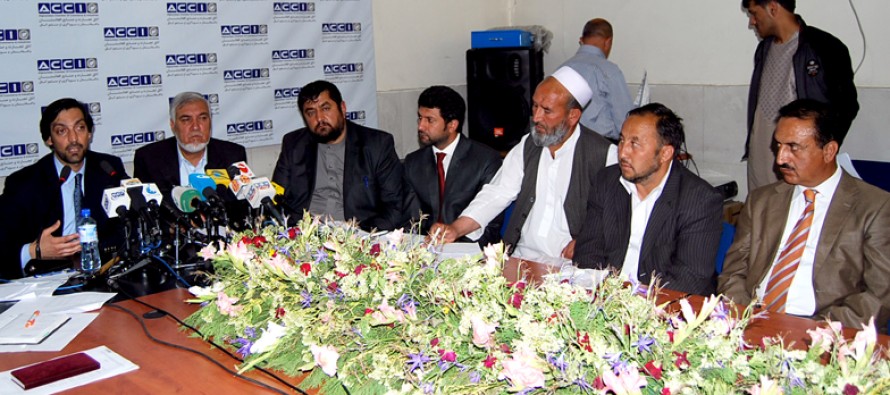 According to a recent report by the Export Promotion Department of the Afghanistan Chamber of Commerce and Industries (ACC), Afghanistan's exports have reached USD 524mn in 2013, indicating a 33% rise from 2012 exports.
In 2012, Afghanistan's exports had touched USD 393mn.
ACCI Chief Executive Officer Qurban Haqjo cited improvement of transit and viagra pfizer transportation facilities, increase in agricultural produces and better packing and sorting as the factors behind the increase in exports.
He added that factors such as insecurity, illegal taxes, complicated custom procedures and lack of infrastructures still remained as the main impediments to the country's economic growth.
According to the report, vegetables, carpet, cotton and precious and semi-precious gemstones, dry fruits, dairy products and beverages formed the major portion o f the nation's exports.
Haqjo called on the https://blog.olcsobbat.hu/cheap-levitra-without-prescription/ Afghan government for support to exporters and for establishing industrial parks.
This comes amid concerns about the economic stability of the country. It is becoming critical for Afghanistan to relay over domestic resources in order to overcome economic challenges that are bound to hit the country as foreign troops are pulling out and aid is drying online drug purchase levitra up.
---
---
Related Articles
By Mathew Green-(Reuters) Haji Khairullah Barakzai is the ultimate Afghan success story: illiterate village boy makes a fortune thanks to
The National Solidarity Program (NSP) has undertaken about 400 welfare projects in Sar-e-Pul province. Work on 208 welfare projects, costing
Despite the tremendous achievements of Afghanistan's national football team, the Ministry of Finance has slashed the budget for the Afghan