Afghanistan's natural resources are in danger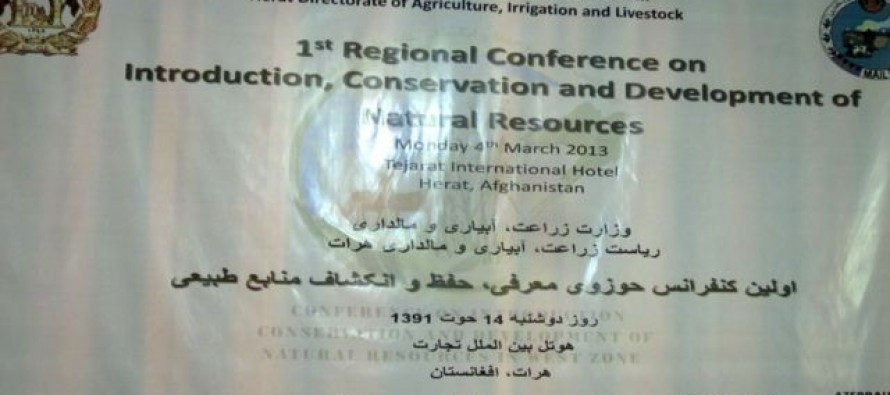 Herat's Directorate of Agriculture, Irrigation and Livestock held a conference on the introduction, conservation and development of natural resourced with collaboration from the United Nations Development Program-UNDP.
According to the directorate's officials, interventions from the neighboring countries and insecurity have resulted in augmenting the problems of Afghanistan's natural resources.
The officials claimed that the neighboring countries' efforts in destroying natural resources are continuing in the western regions of Afghanistan.
Head of Ghor's Directorate of Agriculture, Irrigation and Livestock Faridudin Abid said Pakistanis have mobilized a group of people to destroy some of the natural herbal medicines found in Ghor province.
Hafizullah Beenish, Head of Badghis' Agriculture Directorate, regarded the situation of the natural resources in the province as a major concern of the province.
Mr. Beenish claimed that some neighboring countries try to demolish the pistachio trees of Badghis in order to boom their pistachio products in the international market.
According to Mr. Beenish, pistachio forests in Badghis covered 91,000 hectares of land a few years back. However, recently, the area is reduced to 27,000 hectares.
Meanwhile, Farah's directorate complained about the interventions coming from Iran.
Head of Farah's Agriculture Directorate Abdul Manan Mateen said Iran repeatedly tries to impede the construction of water dams in the province.
He expressed his concerns about the harms caused to the water resources and other agriculture facilities of Afghanistan by their intrusion.
The agriculture directorates of western provinces hoped for a positive outcome of  the conference.
The directorates cited lack of security, interventions from neighboring countries, inattention of the government and usurpation of lands by powerful people as the main challenges to the development of Afghanistan's natural resources.
---
---
Related Articles
Today 303 young women from 15 high schools across Nangarhar, Laghman and Kunar provinces graduated from Taraqi Saba, or "Development
With a cost of 15,893,698 AFN, ten projects of the National Solidarity Program of the Ministry of Rural Rehabilitation and
Afghan Higher Education Minister Dr. Obaidullah Obaid laid the foundation stone for the new building for the Computer Science Faculty