AgFair held in Mazar to promote agricultural sector in Northern Afghanistan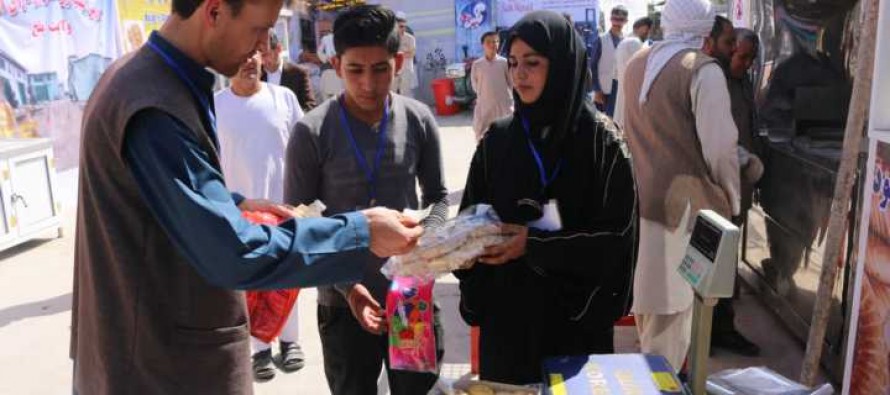 An agricultural exhibition was held on April 28th and 29th in Mazar-e-Sharif, Afghanistan to help promote the agricultural sector in Northern Afghanistan.
The AgFair was organized by the Balkh Chamber of Commerce and Industry (BCCI) and the Afghan-German cooperation at the Nuts and Dry Fruit market in Mazar-e Sharif.
The event provided a great opportunity for businesses to develop new professional relationships and close new contracts.
80 exhibitors from the agricultural sector presented their products at the event. That included input-suppliers, producers, processors and traders from the Northern provinces in Afghanistan. Service institutes, governmental departments, donor-agencies, NGOs, research and finance institutes, private companies and the general public also attended the event.
"I met a number of exhibitors and shared contact detail with them. From the first day onwards, people have inquired about my business. I will make the best out of this opportunity and hope to close many deals with traders to further improve my business and income," said businessman Farhad Rahimi.
The AgFair was co-organized by the German government's program for Sustainable Economic Development and Employment Promotion (SEDEP) and the BCCI. As the project is generally aiming at helping to create jobs and to strengthen business relationships in the agricultural sector, matchmaking sessions were organized at the event. The BCCI especially facilitated business to business (B2B) contacts with dedicated offices at the fair.
The project SEDEP supports various activities to strengthen businesses and create jobs in Afghanistan in the following five value chains: nuts, dairy, poultry, wheat and vegetables. Apart from training and infrastructure development initiatives, the German government also helps to establish dialogues between public and private sector actors. Farmers and government can address concerns and draft policy recommendations to improve economic opportunities.
---
---
Related Articles
A USD 62mn project, provided from the development budget of the Ministry of Water and Energy, is granted to a
A new building for the Department of Borders and Tribal Affairs was inaugurated in northern Kunduz province. Funded by the
Fifty-one welfare projects have been successfully completed in Muqur, Qala-e-Naw and Qadis districts of Badghis province. Costing 3,761,465 AFN, these