Agricultural Institute established in Badakhshan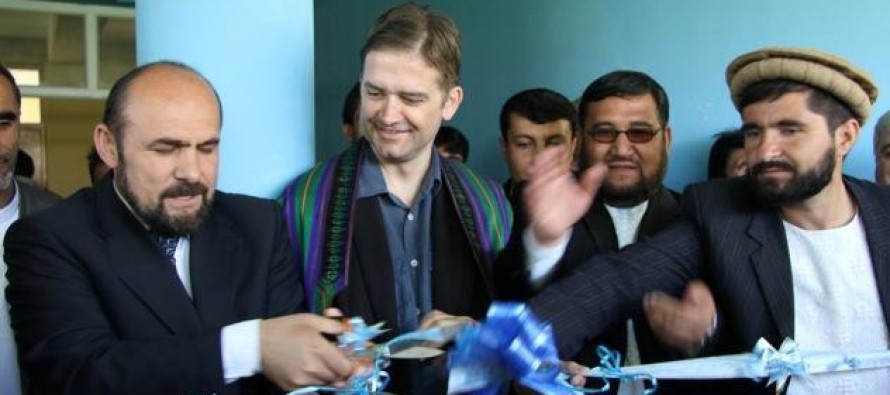 A new agricultural institute building has been inaugurated in the Baharak district of Badakhshan Province. The project was financed by the German Federal Foreign Ministry and implemented by the KfW Development Bank and its partner, the Aga Khan Foundation. It is the first such institute of its kind in Badakhshan at district level.
The school has a capacity to serve more than 500 students. It will provide access to agricultural education for students from throughout Badakhshan and Afghanistan. The building consists of a two-story, nine-classroom building with laboratories, a library, a computer room, and specialized departments for livestock, crops and forestry. The total budget of the project was 441,000 USD.
The Provincial Governor of Badakhshan, Dr. Shah Waliullah Adib, and the Head of the Pro-vincial Council, Mr. Abdul Wahid Taibi, attended the ceremony. The Deputy Ambassador of the German Embassy in Kabul, Mr. Oliver Owcza and the Chief Executive Officer of the Aga Khan Foundation in Afghanistan, Mr. Akhtar Iqbal, also took part in the inauguration. Members of the provincial council, district-level government representatives, community elders, and institutional faculty and students were present.
The initiative was funded by the Stabilization Program for Northern Afghanistan (SPNA), which is financed by the German Federal Foreign Ministry, managed by KfW Development Bank and implemented by the Aga Khan Foundation (AKF), together with Mercy Corps and ACTED. Since 2010, the SPNA has provided over 70 million USD to support high-value rural infrastructure projects in Badakhshan, Takhar, Kunduz, and Baghlan. So far, more than 180 small- and medium-size infrastructure projects have been funded in 37 districts.
The agriculture institute was initially established in 1996 with the support of local commu-nity members and leaders. It became a formal part of the higher education system in 2002, serving both female and male students throughout the province. Agriculture is the founda-tion for most families' livelihoods in Badakhshan and the main source of income for 55% of households.
---
---
Related Articles
President Hamid Karzai conferred on the challenges facing the Afghan banks at a meeting attended by concerned ministers, chairman of
Favorable climate, improved irrigation, provision of trainings for farmers and prevention of diseases are cited as major factors behind this
Afghan Finance Minister Eklil Hakimi and Saudi Arabia's Commerce Minister Majid Bin Al Qasabi met in Riyadh on Thursday to