Ahmad Zia Masood calls for coordination between Energy and Agriculture Ministry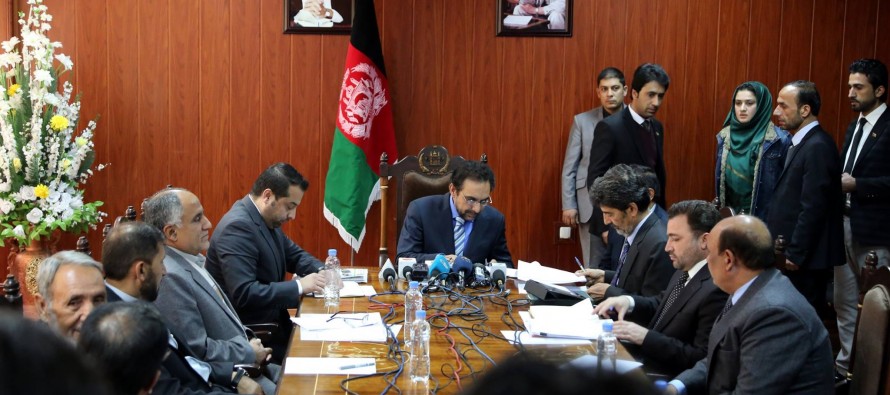 Ahmad Zia Masood, President Ashraf Ghani's special envoy, called for coordination between the Ministry of Agriculture and Livestock and Energy and Water to help address the country's economic issues.
Addressing a conference in Kabul on Saturday, Masood said the two ministries must have a common strategy in order to boost agricultural production and enhance irrigation of agricultural land.
"We are in need of coherence between our two institutions. The Agriculture Minister must be able to easily approach the Energy and Water Ministry when there is a need for a water canal. There must be a strategic plan," said Masood.
He ordered the Agriculture Ministry to present specific strategies for the improvement of the Ministry's activities in two weeks time.
Meanwhile, Acting Minister for Agriculture Salim Kunduzi said more agricultural lands need to be irrigated across the country to increase agricultural production.
He added that many agricultural lands in Helmand and Nangarhar cannot be used due to lack of water.
In response to his concerns, Acting Minister for Energy and Water Eng. Ghulam Farooq Qazi said the Ministry was making efforts to establish dams in various parts of the country.
"We have plans to build several dams that will help irrigate about 3.18mn hectares of lands across the country," said Eng. Qazi.
Despite influx of billions of dollars of aid, Afghanistan has failed to build up a proper agriculture system. The failures in the agriculture sector over the past decade point out the ineffectiveness of the foreign aid.
---
---
Related Articles
A delegation of AIIB led by Sir Danny Alexander, Vice President & Corporate Secretary visited the SAARC Development Fund Secretariat
The contract for construction of small power and irrigation dams was signed between Afghan Minister of Energy and Water Mohammad
Security officials have reported about new restrictions at the Sher Khan port, the border between Afghanistan and Tajikistan. General Habibullah