America to pledge millions of dollars for the growth of Afghanistan's private industries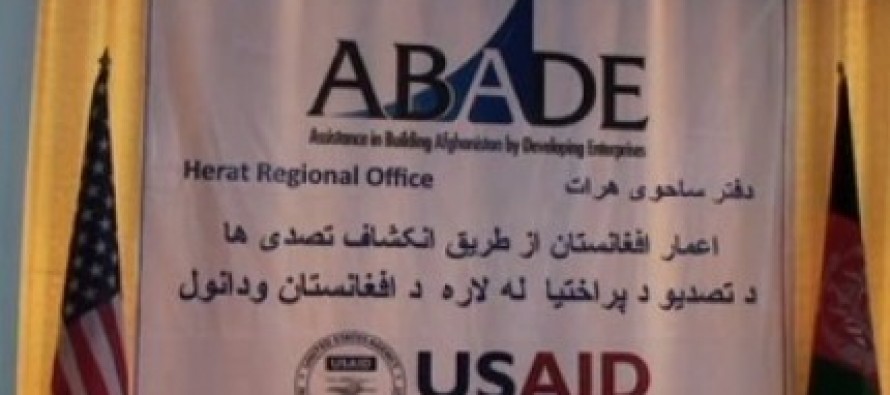 America has promised to provide USD 180mn in the next four years to support small and medium industries in Afghanistan.
The United States Agency for International Development (USAID) with collaboration from the Afghanistan Chamber of Commerce and Industries (ACCI) launched the Assistance in Building Afghanistan by Developing Enterprises (ABADE) Program in Herat City. The program aims to significantly improve the lives of people in Afghanistan by helping Afghan businesses grow their businesses.
The opening ceremony was attended by over 60 representatives from the local government and private sector businesses, including businesswomen from Herat.
"The US Government is committed to help. We are putting special emphasis on small and medium enterprises, which have the greatest potential for creating jobs for Afghans," said USAID Deputy Director for Economic Growth Theodora B. Dell.
ABADE partners with the private sector to increase investment, job creation, businesses, with a focus on advancing opportunities women and youths.
"I believe that ABADE Project will improve the value chain of products through its goals and structure," said Herat Governor Economic Adviser Mr. Ibrahimi.
---
---
Related Articles
Afghan officials and tribal leaders in some parts of eastern Afghanistan have claimed that the Islamic State are cutting trees
Afghanistan's newly-appointed Ambassador to Tehran Basir Ahmad Noor met with Iranian Foreign Minister Ali Akbar Salehi to explore ways to
Afghanistan's economic growth is projected to increase slightly to 2.6 percent in 2017 from 2.2 percent in 2016 as the