ANASTU : India furthers assistance in southern Afghanistan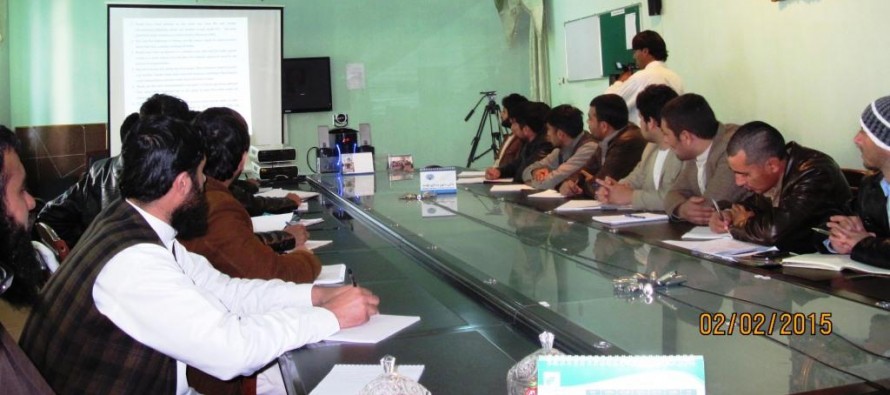 The Government of India organized the first ever tele-conference lecture for Afghanistan National Agricultural Sciences and Technology University (ANASTU) on 2nd February, 2015 at Kandahar University viagra 100 mg cheap campus. Based on ANASTU's request, the premier Indian agricultural institution – Indian Agricultural Research Institute (IARI) of New Delhi will be conducting two courses on specialized topics of 'Principles and Practices of Weed Management' and 'Principles and Practices of Water Resource Management' through tele-conferencing.
For these courses, on the Indian side, the senior faculty members of IARI will organize interactive lectures at the IARI campus in New Delhi which will be uplinked for the participants in Kandahar University campus. From the Afghan side, 32 participants, including 23 Post Graduate students from first batch of M.Sc Agronomy and 9 Assistant Professors will where can i buy levitra without perscription be attending these courses. In these tele-education interactive lectures, the participants will have the opportunity of asking direct questions from Indian professors in real time. For their Post Graduate degree, the Afghan students have already studied five courses in IARI New Delhi and would be studying the remaining six courses at ANASTU in Kandahar.
ANASTU was inaugurated on 15 February 2014 by the former Afghan President H.E. Mr. Hamid Karzai and the then Indian External Affairs Minister H.E. Mr. Salman Khurshid. India has already provided technical books and interactive CDs for library of ANASTU and will soon be providing latest farm equipment and laboratory instruments, valuing more than US $ 200,000. For specialized subjects, a batch of 20 Afghan faculty members and lab technicians will receive training at IARI campus in New Delhi . Besides, an Indian Company – Telecommunications of India Ltd., will be setting up the node for tele-educational facilities at the ANASTU campus.
India is hopeful that with the augmentation of infrastructure at ANASTU, the professional facilities in the field of agriculture would be better for the entire Afghanistan. Afghan authorities have been duly acknowledging the active role played by India in the field of education over the last 12 years. The establishment and functioning of this University truly symbolizes the friendly relations between the two countries.
---
---
Related Articles
Earlier this week, Afghan Energy and Water Minister Mohammad Ismail Khan was summoned by the Upper House of the Parliament
The finance ministry on Sunday promised bringing changes to the annual budget, hours after its rejection by an overwhelming majority
The livestock in Baghlan are faced with serious problems caused by the constant snowfall and the cold weather. Livestock owners