As NATO Nears Exit, Construction Dries Up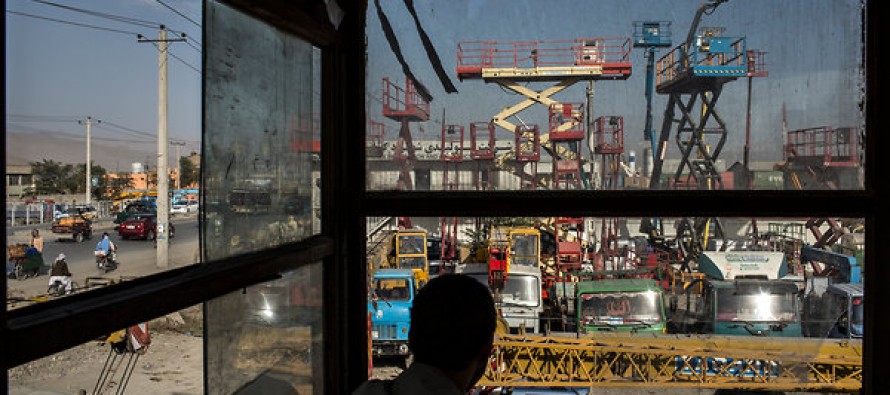 Jalalabad Road, the heart of what might be called the Afghan capital's military-industrial complex, has also become the place where heavy construction equipment comes to die.
Lined with Afghan and NATO military facilities and the contracting firms that serve them, the road is also garlanded with miles of brightly colored holding yards — in the yellows, oranges, blues and reds of backhoes and diggers, forklifts and bulldozers, cranes and cherry pickers, graders and rollers.
Most of them are new, or newish, and nearly all are idled. Nowhere is the impending collapse of Afghanistan's construction industry more evident than here, where Afghan companies that hire out heavy equipment to construction firms have hit hard times.
"In the past two months nobody has rented a single piece of my machinery," said Shafiq Ahmad Sidiqi, 28, who owns a construction company and rents out hydraulic lift platforms, of which he has 30 in various sizes. "The foreigners are leaving, and the money is drawing down."
Precise figures on the falloff of construction in Afghanistan are difficult to come by, but those in the business say the impending American and NATO withdrawal has not only slashed military spending, but also depressed construction spending generally.
"The decline of investment in construction started at the beginning of 2012 as soon as the 2014 deadline was announced," said Ghulam Ali Danish Kamal, the executive manager of the Afghan Builders Association.
Mr. Kamal said the number of construction companies in Afghanistan had fallen to at most 3,000, compared with 10,000 at one time. "Already there has been a 30 to 40 percent drop in investment in construction this year, and some of the projects that you see here are from 2011, which will be completed by the end of this year," he said. "In 2013, most of the companies will be out of a job, and even if there are some projects they will be small ones."
Afghan government officials insist things are not as bad as all that. "We don't confirm the decline in the number of construction companies," said Wafiullah Iftikhar, president of the Afghanistan Investment Support Agency, who maintained that the drop in military financing would be made up for in long-term foreign investment. "We do accept that there has been a dramatic reduction in the number of projects and contracts awarded by NATO forces in 2012, but it does not necessarily mean the construction sector would collapse," he said. "We are hopeful that in the near future the construction sector would boom once again, since the international community has pledged billions of dollars to spend on infrastructural and economic development projects."
That is little solace to Mr. Sidiqi. At the height of the boom in 2010 and 2011, his company employed 400 full-time workers on a dozen projects, many of them in dangerous areas in southern Afghanistan. He has let all but a few office staff members go, and hires temporary workers whenever a project comes along.
He said he had only one project on the books, a $500,000 job building container housing on a base, and that is likely to fall through, too. "I just got an e-mail that it's going to be canceled," he said.
His company had contracts with the French military, so was hit harder and sooner than some others, after the French announced that they would complete their pullout a year ahead of schedule, by the end of 2013, after losing troops this year to attacks attributed to Afghan security forces.
Last year, Mr. Sidiqi said, he made a fateful business decision, deciding to sink his profits into the purchase of a couple dozen more hydraulic lift platforms at $22,000 apiece, because the profits in renting them were so high. By the time he took delivery, the business had tanked. "Now, I could sell them for scrap metal," he said.
"Before the announcement of the withdrawal, all these yards were empty because the equipment was out on jobs," he said. Now, the yards are almost all full, and all over Kabul are the skeletons of unfinished buildings, devoid of workers. The slowdown has had one unintended consequence at the Qara Company, a loose cooperative of 15 crane owner-operators who originally came from Bamian Province: they have all gotten to be good volleyball players, since there is nothing much else for them to do but play on the court they have set up in their yard.
"Before, we used to have clients twice a day," said Mohammad Musa, 35, one of the crane owners, who has a 20-ton, Japanese-made Tadano crane with a 115-foot boom. "Now, we are lucky if we have one a week."
"There is no doubt that they would make less profit now and there would be less business," Mr. Iftikhar said of the construction sector, "but it does not mean collapse."
Total American spending in Afghanistan was budgeted at $159.4 billion in 2011, and the estimate for 2012 is $126.5 billion, according to the White House Office of Management and Budget. By 2013, that will have dropped to $96.7 billion. More difficult to quantify is how much other countries' international spending in Afghanistan, as well as private investment, has fallen. "One of the biggest concerns that the Afghan government, the international community and we have is the financial and investment drainage," Mr. Kamal said. "We have been hearing that a lot of people are taking their money out of Afghanistan and investing in other countries."
Mr. Sidiqi said he had no plans to leave, since his capital is all in heavy construction equipment. He does still get plenty of e-mails from the military contracting authorities inviting him to bid on work. "They're asking us to destroy those bases we made for them," he said. That, he added, does not seem to be a business with a future.
By: ROD NORDLAND and SANGAR RAHIMI- New York Times
---
---
Related Articles
Two construction projects were officially started as part of the Afghan-German Cooperation program in partnership with the Baghlan Department of
Despite the presence of four insurance companies in Afghanistan, individual insurance coverage is yet not available in Afghanistan and majority
The 10-member Afghan delegation led by Foreign Minister Dr. Zalmai Rassoul arrived in Islamabad on Friday morning to hold bilateral