Aspiring entrepreneurs in Kabul get chance to pitch their ideas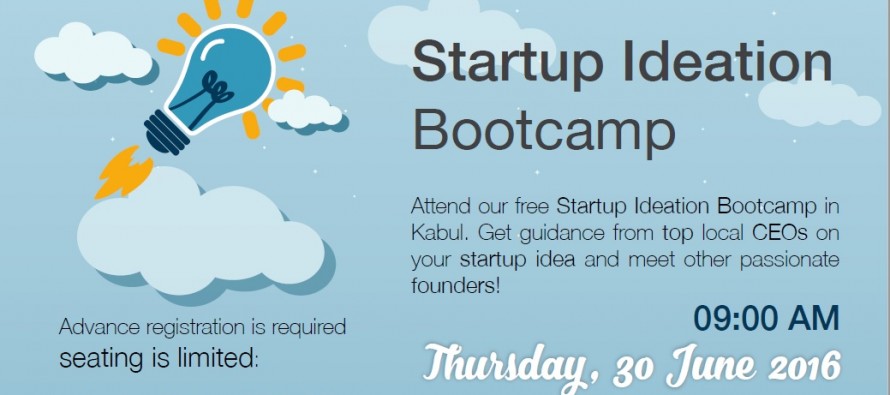 Founder Institute – Kabul Chapter and Shetab – Afghanistan Center for Business and Social Innovation have organized a Business Ideation Bootcamp for Afghan entrepreneurs, innovators, techstars and those who want to bring positive change to Afghanistan's socio-economic status by introducing great ideas and innovative (social) enterprises.
The Bootcamp was held on Thursday June 30th in Kabul, cheap propecia with around 30 participants pitching their ideas.
Great businesses rest on great ideas. A significant investment of creative buy levitra cheap us energy is required to formulate a promising business idea, and that idea must be rigorously tested and refined before an entrepreneur can be confident it is not only a good idea, but a profitable idea. At this event, Afghans will get the chance to learn how to develop, refine and then pitch an idea in order to gain traction for a new business, at a Startup Ideation Bootcamp. This half-day event will feature seasoned mentors on-hand to coach the entrepreneurs as they practice pitching their ideas in front of a group.
"We join Shetab Afghanistan in reaching out to dynamic individuals who are ready to take the plunge and get their business off the ground by giving them this opportunity to get their pitch right and be able to sell their idea effectively" said Jamshid Hashimi, Co-Director of Founder Institute in Kabul. "This is a very hands-on event where founders will leave knowing how to make a compelling pitch," added Hashimi.
According to a statement from FI-Kabul, the event is free to attend but advance registration is required as seating is limited: http://FI.co/e/75321.
The event is aimed at men and women thinking about starting a business, who could use help with their idea, and want to benefit from the advice of top local CEOs and mentors. The event is also a good opportunity to connect with other entrepreneurs, some of whom may become business partners.
"Afghanistan is an emerging market, where entrepreneurs face numerous challenges to set up their ventures," said Ajmal Paiman, co-founder of Shetab Afghanistan. We are here to join hands with different startup support organizations such as FI to build the eco-system through which we can ultimately have a thriving startup and entrepreneur community," he added.
Startup Ideation Bootcamp is part of a series of event swhere entrepreneurs learn more about their business ideas and get to understand the basics of starting a new venture. Entrepreneurs will also have the chance to benefit from other entrepreneurship support services offered by both organizations, Founders Institute and Shetab Afghanistan, and maintain and sustained relationship with these organization until their ventures are completely off the ground.
About Founder Institute:
The Founder Institute, the world's premier idea-stage accelerator and startup launch program, will begin its third cohort of its intensive four-month curriculum of structured weekly training courses and business-building assignments from August this year, and is now accepting applicants from Kabul.  The Founder Institute is, whose graduates have created 2,100 companies launched with a 79% company survival rate, having created over 15,000 jobs (as of June 2016). FI is the most challenging and effective step-by-step Startup launch program for talented and motivated aspiring entrepreneurs. It provides a structured process, constant feedback and evaluation from expert mentors, and global network of entrepreneurs to support entrepreneurs to start an enduring company. In addition, the Founder Institute is the only program of its kind that focuses on people versus ideas, accepts founders with day jobs, and shares equity with all participants.
About Shetab:
SHETAB (meaning 'accelerate' in Persian/Dari) is a center for business and social innovation in Afghanistan, the mission of which is to facilitate the process of creating successful and impact driven social ventures across Afghanistan. They are enabling the next generation of Afghann entrepreneurs and civic leaders. They provide social innovation Labs in partnership with Unreasonable Institute, as well as mentoring and business coaching, and are also working with the startup community to set up shared office and innovation space for young Afghan social entrepreneurs and innovators. Based out of Kabul, Shetab offers comprehensive technical, accelerator, workforce development and other capacity building solutions available to (social) entrepreneurs and social change activists focusing on priority sectors with high potential for growth and social impact in Afghanistan. Shetab believes that the engagement and participation of important stakeholders from the social, public and private sector is fundamental to creating a thriving startup ecosystem and community in Afghanistan.
---
---
Related Articles
Led by Qatari Businessmen Association Chairman Sheikh Faisal Bin Qasim Althani, the Qatari delegation met with President Hamid Karzai to
With financial collaboration from UNDP, the first recreation park has been opened in Cheghcheran city of Ghor province. Addressing the
The Afghanistan Investment Support Agency (AISA) and the Kabul Green Expo organized the first International Construction and Food Expo from