Award ceremony for civil servants' completion of five-phase training programme in Feyzabad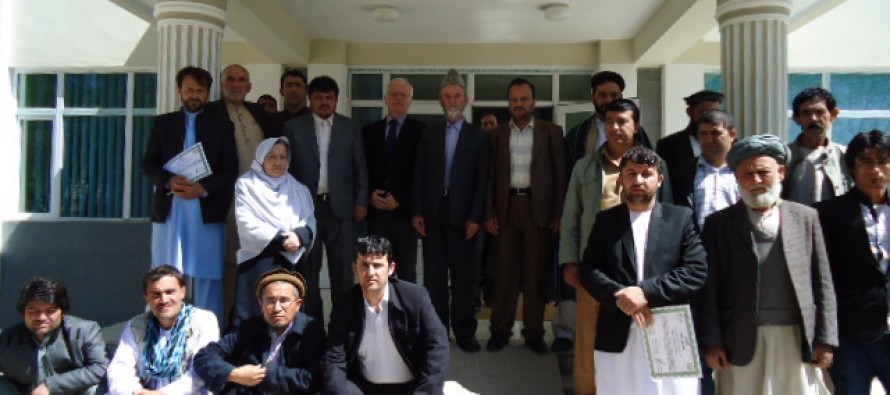 On 4 April 2013, an award ceremony took place in Feyzabad marking the completion of a five-phase training programme by civil servants from various line departments of Badakhshan Province . The Deputy Governor of Badakhshan, Dr Gul Mohammad Baidar, Abdul Ghafor Frogh Director of Economy as well canadian healthcare pharmacy as other representatives from the provincial government, different departments and German Cooperation with Afghanistan attended the ceremony.
Around 125 civil servants, of whom 20 were women, from more than 15 different departments, such as the Provincial Governor's Office, the Department of Economy, the Department of Finance, the Department of Justice, the Department of Women's Affairs, the Department of Rural Rehabilitation and Development and the Department of Mines and Industries were selected for the five-phase training programme. The participants were trained in the fields of strategic planning, blitz levitra communication, conflict resolution, management and leadership. The knowledge gained will enable the civil servants to meet the requirements of their working environment and improve service delivery of the provincial government to the people.
The training courses were conducted as part of larger projects proposed by the Provincial Governor's Office (PGO) as well as the Department of Finance and decided on by the Provincial Development Committee (PDC) Badakhshan. These projects, supported by the Regional Capacity Development Fund (RCDF) and financed by the German Federal Ministry for Economic Cooperation and Development (BMZ), deliver technical support to the Provincial Development Committee (PDC), strengthen the Human Resources Department of the PGO as well as provide equipment to the Deprtment of Finance.
As part of Afghan-German Cooperation, the RCDF is implemented by the Deutsche Gesellschaft für Internationale Zusammenarbeit (GIZ) GmbH. The RCDF is supporting the development priorities of Afghan partners at provincial and district level in five northern provinces of Afghanistan, while at the same time providing training and coaching programmes for civil servants. With its broad range of activities, the RCDF aims to increase Afghan ownership of the development process, to strengthen Afghan state institutions on sub-national level and to promote transparency and inclusiveness.
---
---
Related Articles
The second day of the prosecution on the fall of Kabul Bank was launched on Saturday. Twenty-two people have been
The United States Agency for International Development (USAID) is providing USD 38mn to fund a 5-year capacity building program for
Kam Air has suspended flights to the United Arab Emirates citing the price dumping strategy of the foreign airlines as