Badakhshan agriculture district departments learn how to support farmers in the province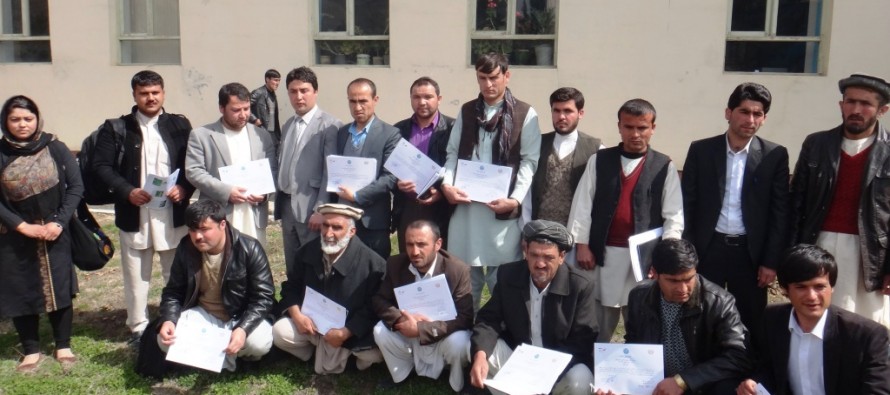 A 21-day training workshop in English and computer skills for district agricultural departments came to close in Faizabad, Badakshan.
As part of the Afghan-German cooperation initiative, the training is an additional support measure of a large-scale office and IT equipment delivery project for the district offices of Badakhshan's Department of Agriculture, Livestock and Irrigation Department .
A total of 20 participants from various districts, including Ishkashem, Keshem, Shuhada, Teshkan, Argo, Baharak, Yatali Payan, Jurm and Shugnand,took courses in basic English and computing to improve IT and software operating skills, for better quantitative and qualitative agricultural service delivery to the population of Badakhshan.
The training was part of larger project proposed by the Director of Agriculture, Livestock and Irrigation (DAIL) in Badakhshan and was approved by the Badakhshan Provincial Development Committee (PDC). Technical support came from the Regional Capacity Development Fund (RCDF) and funding came from the German Federal Ministry for Economic Cooperation and Development (BMZ).
As part of the Afghan-German Cooperation strategy, the RCDF is implemented by Deutsche Gesellschaft für Internationale Zusammenarbeit (GIZ) GmbH. The RCDF provides supports for its Afghan partners' development priorities both on a provincial and a district level in six of Afghanistan's Northern provinces. At the same time, the RCDF provides training and coaching programs for civil servants.
With its broad range of activities, the RCDF aims to increase Afghan ownership of the development process, strengthen Afghan state institutions on the sub-national level and promote transparency and inclusiveness.
---
---
Related Articles
The Afghanistan Research and Evaluation Unit (AREU) has maintained its position as the top think-tank in Afghanistan and risen to
President Hamid Karzai in his meeting with Iran's Deputy Foreign Minister in Kabul called for further strengthening of economic relations
A group of 28 Afghan investors have attended the GulFood 2019 agricultural expo in Dubai. The Afghan part of this