Baghlan province strengthening services for population with German support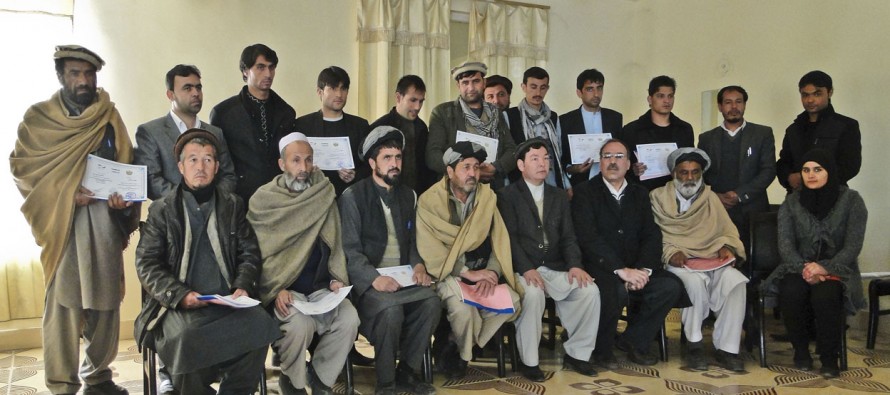 Over the past three days, line departments in Baghlan completed new programs and measures to offer more services for the province's citizens.
On 15th December 2014, Baghlan's Department of Labour, Social Affairs, Martyrs and the Disabled (DoLSAMD) officially opened of a new Technical and Vocational Education and Training (TVET) Centre in the capital Pul-e-Khumri. On 16th December, the Department of Rural Rehabilitation and Development (DRRD) inaugurated a new administrative building near Pul-e-Khumri city centre. On 17th December, 24 government line department staff and District Development Assembly (DDA) Shura members from the districts of Dahna-e-Ghori and Pul-e-Khumri completed four days of training in preparing contracts. All measures were completed with more than AFN 50 million in financial and technical assistance from the German Government.
The TVET centre offers learning facilities for people in need. A substantial number of Baghlan's citizens, especially the poor, can now attend courses, learn skills, improve job opportunities and generate their own income. At the inauguration, Mr. Moshtaq Ahmadi, Director of DoLSAMD in Baghlan, stressed the importance of the centre and said: "The new building will establish an effective network of social protection for deprived and marginalized groups. The urgently needed facilities for skill development will help create opportunities for the unemployed, leading to improved living conditions. With these facilities, DoLSAMD can cater more for the families of martyrs, the disabled and the poor."
The new administrative building for the DRRD houses new administrative offices and a conference hall. The DRRD runs a range of activities for various communities in the province. As the DRRD is expanding in organisation, the previous building had run out of space to meet the department's demands. As Abdulrab Hakimi, Director of the DRRD in Baghlan, explained at the opening, "The DRRD now has better working capacity with enough space for staff and clients. The new training and meeting hall will make it easier to conduct meetings and trainings at the provincial and district levels, and is also open for use by NGOs. Our staff is now in a better position to process citizens' applications and requests quickly and efficiently."
Finally, the contract template training for civil servants completed today marked the final leg of a capacity development program by Germany's Regional Capacity Development Fund (RCDF) for line departments in 13 other districts in the province. In total more than 170 civil servants have attended the courses. The training was on using templates for employment, service level and construction contracts. The courses were available for all government line departments and DDA Shuras in the districts.
As Abdul Wahid Azami, Director of the Capacity Building Unit at Baghlan Provincial Governor's Office (PGO), explained: "At the district level, our government staff need to increase their skills. The contract template training was effective and they now know how to work with contracts we use frequently." A participant in the course, Mr. Abdulhay from Gozargha-e-Noor district, added, "It is important for us to learn how to prepare these contracts, and the training has had a direct impact on my work and we are now in a better position to work for the population."
As part of Germany's cooperation with Afghanistan, the RCDF, which is financed by the German Federal Ministry for Economic Cooperation and Development (BMZ), is implemented by Deutsche Gesellschaft für Internationale Zusammenarbeit (GIZ) GmbH. In six provinces of Northern Afghanistan, RCDF supports the development priorities of its Afghan partners in the provinces and districts, while at the same time providing training and coaching programs for civil servants. With its broad range of activities, the RCDF aims at increasing Afghan ownership of the development process, strengthening Afghan state institutions and promoting transparency and inclusiveness
---
---
Related Articles
Amid concerns over the insecurity of government IT systems, Ministry of Telecommunication and Information Technology announced the introduction of a
US defense officials expressing optimisms towards the impressive progress of the Afghan Air Force said Pentagon is primarily focusing to
Residents and property dealers have expressed concerns about the aftermath of 2014. According to them, as the deadline for the