Baghlan's provincial departments receive office equipment for effective public services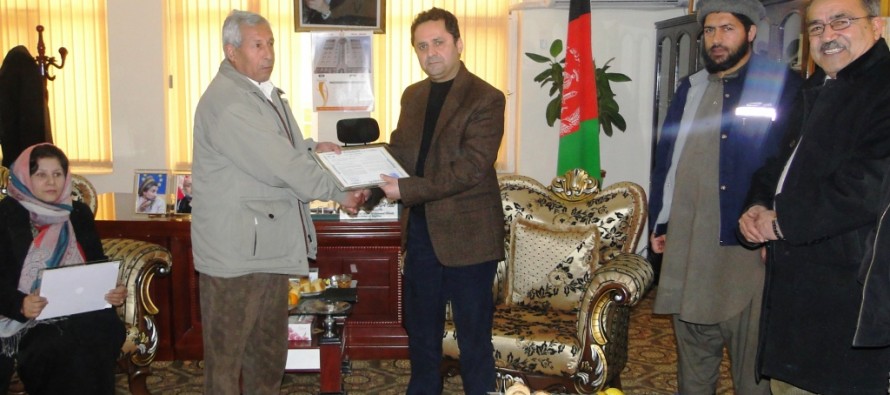 Department of Rural Rehabilitation and Development (DRRD), Department of Woman Affairs (DoWA) and Department of Agriculture, Irrigation and Livestock ((DoAIL) in Pul-e-Khumri district, Baghlan, receive AFN 5 million worth of office equipment, promising greater quality of services for population.
The office equipment project helps the DRRD, DoAIL and DoWA improve their ability to deliver quality services to the public in Baghlan. The aim of the project is to help improve the information systems, reporting facilities, coordination and communication, transparency and accuracy in the various departments. Another benefit of the project is that it will make civil servants' work easier when responding to citizens' requests and needs. By providing a more effective work environment, they can route activities properly and in a skilled, professional manner to the public. The equipment the departments received included state-of-the-art IT, electronic devices, furniture (e.g. air conditioners, refrigerator, desktop and laptop computers, printers, projectors, cameras, agriculture books, carpets, chairs and rugs, auto level machines with all the relevant accessories and total station machine).
The project was initiated by the Bahglan Provincial Development Committee (PDC), which identified needs for effective work in the DoWA, DRRD and DoAIL in October 2012. The total of AFN 5 million in funding came from the German Federal Ministry for Economic Cooperation and Development (BMZ). The Regional Capacity Development Fund (RCDF) Baghlan provided technical and administrative support for the project.
As part of the German Cooperation with Afghanistan, the RCDF is implemented by Deutsche Gesellschaft fuer Internationale Zusammenarbeit (GIZ) GmbH. The RCDF is supporting the development priorities of the Afghan partners at provincial and district levels in six Northern provinces of Afghanistan while at the same time providing training and coaching programs for civil servants. With its broad range of activities, the RCDF aims to increase Afghan ownership in development process, strengthen Afghan state institutions on sub-national level and promote transparency and inclusiveness.
---
---
Related Articles
Cooperative societies would distribute 152 tons of wheat seed and 456 tons of fertilizers to farmers in Herat this month.
Five Afghan companies signed the first Public-Private Alliances (PPAs) with USAID in Kabul today. These companies have matched USAID funding,
Small and medium enterprises (SMEs) have the potential to be a key economic driver of Afghanistan's development. However, Afghan business