Balkh University Designated as Financially Autonomous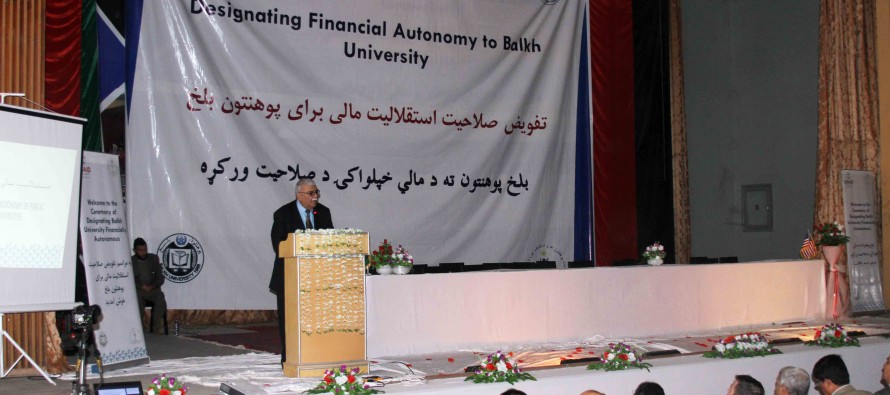 The Ministry of Higher Education (MoHE) designated Balkh University as financially autonomous for the first time in the history of the university.  
Balkh University is now authorized to benefit from the financial autonomy bylaw that allows designated public universities to generate and manage revenue from its professional and academic services. The university will also be able to use the generated revenues from professional and academic services for the expansion and development of the university and its educational programs, including research and innovation.
The U.S. Agency for International Development (USAID), through its University Support and Workforce Development Program (USWDP), supported Balkh University with technical expertise to conduct an in-depth financial management study and shared the results with the university and the leadership of the MoHE.
In order to further improve the university's capacity to operate as financially autonomous, USWDP provided training in public financial management and budget planning, helped to establish private bank accounts for receipt of new funds, and developed manuals and standard operating procedures for use by Balkh and other public universities.
"Balkh University is a perfect example of USAID's help to organizations on the journey to self-reliance through sustainable development solutions," said USAID Mission Director Herbie Smith. "USAID is proud of Balkh University and the announcement of their financial autonomy," he added.
Chancellor of Balkh University Mokamal Alkozai said, "As Balkh University is responsible for leading the academic services in the whole northern and north-east region, this status will enhance our ability to serve better. We thank MoHE leadership in trusting us with financial autonomy and we promise to deliver as per our responsibilities."
USAID's University Support and Workforce Development Program supports the MoHE and 11 public universities to implement strategies designed to ensure quality education and employment opportunities for Afghan students. In addition, the project links universities and potential public and private sector employers and strengthens the management of the partner universities. The partner universities include Kabul University, Kabul Polytechnic University, Kabul Medical University, Shaheed Rabbani Education University, Nangarhar University, Herat University, Balkh University, Kandahar University, Kunduz University, Khost University, and Jowzjan University.
---
Related Articles
The Teacher Education Directorate (TED) of the Ministry of Education invited teacher trainers from all over Afghanistan to finalize a
A number of Kabul dwellers complained about lack of recreational parks for families. As the spring season is drawing near,
By- Dawood Essa Afghan Telecom, an Afghan telecommunication company, announced this Tuesday that it would be offering GSM (Global System