Bamyan potato production meets 60% of Afghanistan's demand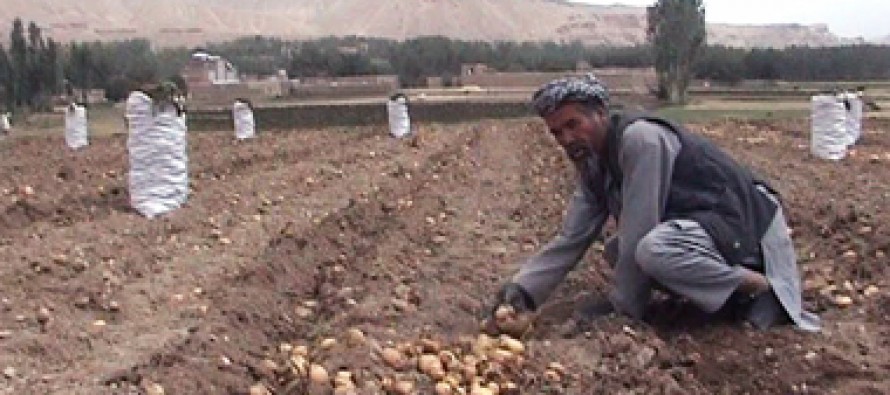 Bamyan potato farmers would supply 50% of Afghanistan's demands in previous years; however, this year's production is estimated to meet 60% of the demand.
Known for its unique quality and taste, potatoes from Bamyan are not only exported to other provinces but to Pakistan and Tajikistan as well.
According to Bamyan's Agriculture Department, the crop netted farmers a collective of 230mn AFN in the last year from a yield of 270,000 tons of potato cultivated over 12,000 hectares of land.
Potato produce is expected to increase this year to around 300,000 tons, for an income of around 260 million AFN, enabling the farmers to meet 60% of the country's demand.
Head of the Agriculture Department Eng. Mohammad Tahir Atayee linked the good harvest to the availability of storage rooms, better maintenance from the farmers, more cultivation of the crop and provision of seeds and agricultural assistance to the farmers.
According to the statistics of the Agriculture Department, over 2000 potato reserves were created in the province which is able to store and protect up to 50,000 tons of potato in the winter.
Provincial officials also said that five centers will be built to wash and packet the potatoes.
---
---
Related Articles
United Nations Educational, Scientific and Cultural Organization (UNESCO) will implement a USD 1.2mn project aimed at the conservation and development
With a cost of more than 36,229,773 AFN including 10% community contribution, twenty-one projects of the National Solidarity Program of
Saudi Arabia announced an aid package of USD 18 million in assistance to the Afghan Red Crescent Society (ARCS) through