Better maintenance of confidential documents in Kunduz with German help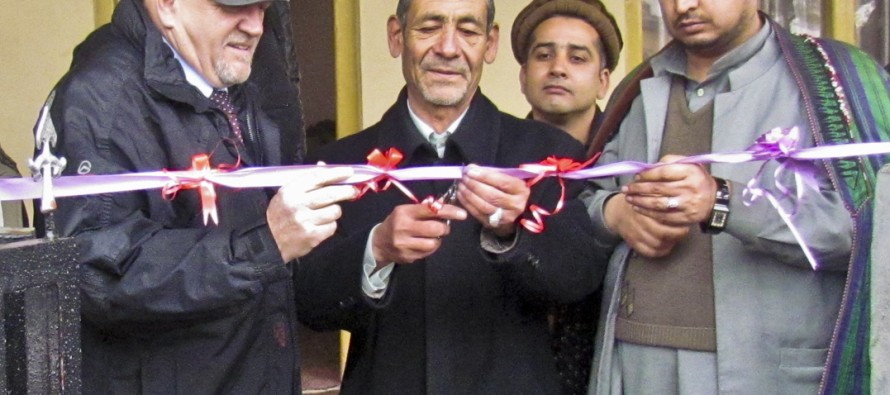 The Registration Department of Imam Sahib district in Kunduz province now has newly renovated offices and new filing equipment following an AFN one million overhaul funded by the German government. As Mr. Mohammad Khan, manager of the registration department, emphasized in his speech at today's inauguration ceremony, "Kunduz is grateful to Germany for its help in renovating and providing equipment. With the new, modern filing system for maintaining all confidential documents, our staff's workload has been made much easier, meaning we can provide reliable services on time for the population. On top of that, we can offer people waiting in the department a comfortable environment and proper seats."
The new equipment includes shelve and files for maintaining documents. The renovations were done on the building after it had been damaged more than three years ago. The idea arose as staff at the department felt that it is difficult to deliver good services with old and unusable equipment and worried about losing thousands of documents because of the absence of a standard archive. The registration department is a key office for maintaining confidential documents. With the newly equipped facilities in Imam Sahib for the Registration Department, the population now can easily get ID cards. The project planning for the renovation and overhaul of the archiving system lay in the department's responsibility together with the District Development Committee. The equipment for the facilities and renovation cost a total of AFN 1.04 million, funded by the German government.
Due to inadequate facilities and a lack of equipment, Imam Sahib's registration department was plagued with challenges in managing and performing its daily tasks. Without a standard archive for filing all required, confidential documents for citizens, it was difficult for staff to find background information on citizens. Further, without proper furniture or shelter, both staff and visitors had to put up with adverse conditions while working and waiting. With the better working conditions and systems they now have, staff can provide services in an orderly manner.
As part of Afghan-German Cooperation, the RCDF is implemented by Deutsche Gesellschaft für Internationale Zusammenarbeit (GIZ) GmbH. In six Northern provinces of Afghanistan, the RCDF supports the development priorities of the Afghan partners in provinces and districts, while providing training and coaching programs for civil servants. RCDF aims to increase Afghan ownership of the development process, strengthen Afghan state institutions and promote transparency and inclusiveness.
---
---
Related Articles
Da Afghanistan Bank (DAB), Afghanistan's Central Bank, sold USD 20mn to Afghan Money Exchangers on 16 March 2013, according to
Afghan Economy Minister Abdul Hadi Arghandiwal cited the baseless concerns and negative rumors about the deadline 2014 as the reason
An extended power line and a newly constructed energy network were put into operation today in the city of Pol-e