Bibi Khadija Award recognizes Afghan women's contribution in business arena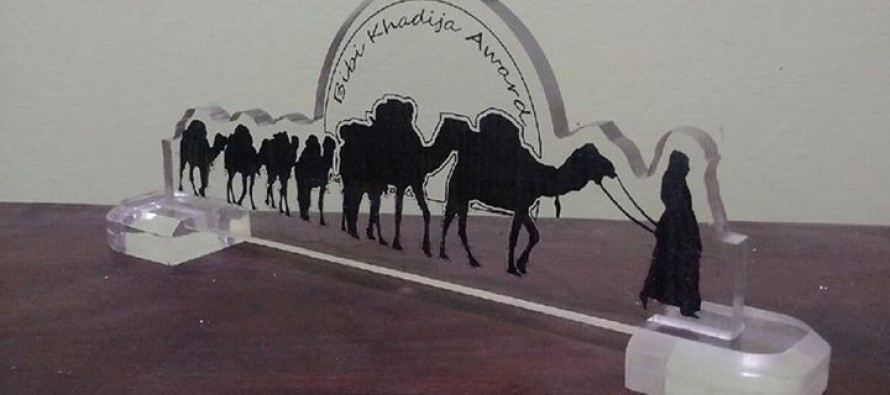 Founded by entrepreneur Manizha Wafiq and Peace Through Business Network-Afghanistan has founded Bibi Khadija Award to recognize Afghan women entrepreneurs and role models in the business sector.
The Award was launched at the celebration of the International Women's Entrepreneurship Day on 19 November 2015 in Kabul where more than 150 representatives from the government, private sector, international organizations, embassies and media had come together.
During the Launch of Bibi Khadija Award 15 Honorary Awards were given away to those who had made a difference through their ventures and supported other women.
Ms. Rahela who started selling Bolani in the middle of Kabul's crowded area in order to feed her child and make her education possible as her husband passed away.
Ms. Sara Bai who started Taxi driving again for the same reason.
Ms. Zarghoona Walizada who started her freight forwarding/shipment company just like Bibi Khadija's but not with Camels, with trucks.
Ms. Mina Sherzoi who started several organizations and companies including Afghan Women Business Association and AWSOME. She also started business training programs for women.
Ms. Kamela Sidiqi who is a serial entrepreneur started several companies including her taxi services in Kabul.
Ms. Sima Tabib who started a furniture manufacturing company and has been running it on her own.
Ms. Aziza Mohmand who started ball manufacturing and leather work. created more than 300 jobs.
Ms. Amirtaj Sirat started ball manufacturing and now dairy processing in Kabul and Diakundi and created jobs for more than 400.
Ms. Hasina from Istalif Kabul who started low cost sanitary pads for girls and introduced it to girls in Istalif district schools. Today she runs several other handmade, leather and food processing sections.
Freshta Hazeq who entered a fully male dominated sector, printing. The only woman owned company that does printing.
Zahra Hussaini who is the first female started a private school in Kabul.
Muzhgan Wafiq Alokozai who started several businesses to support other businesswomen including her World of Women Market and Consulting firm through much many girls and women found jobs and succeeded in their businesses. .
Roya Saadat who started the first film making company and made not only documentaries but also commercial movies and drama TV serials.
Aqeela Rezaie who started documentary making company and also who became an actress of the drama that Roya directed.
Rahima Mushakhas who has successfully run her handicraft business for more than 15 years and have created jobs for more than 100 women.
Bibi Khadija was the first wife of Prophet Mohammad (PBUH). She was a successful merchant. It is said that when the Quraysh's trade caravans gathered to embark upon their summer journey to Syria or winter journey to Yemen, Khadija's caravan equalled the caravans of all other traders of the Quraysh put together.
---
---
Related Articles
Tajikistan's national energy company, known as Barki Tojik, reported Thursday that electricity export to Afghanistan would increase to 1.1 KW
The Italian military of the Transition Support Unit Center (TSU-C) and Afghan National army (ANA) have completed a joint operation
A new peace education curriculum has been introduced all around Afghanistan at Teacher Training Colleges (TTCs). With support from the