Britain pledges 15mn pound for Afghanistan Investment Climate Program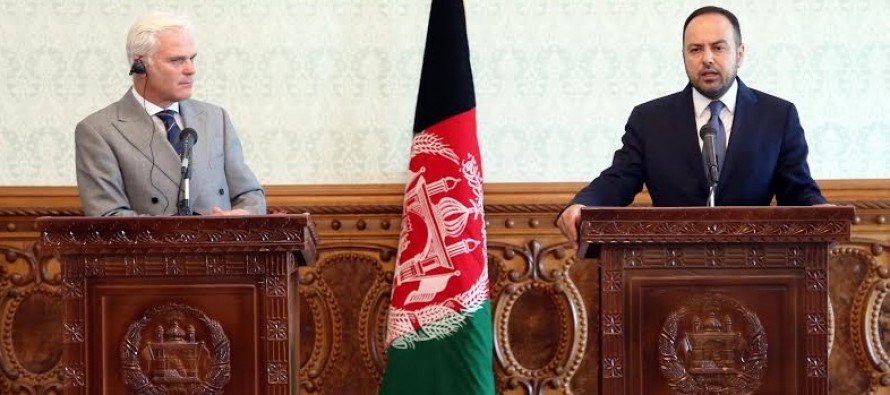 The British government has pledged to donate 15mn pound to the Afghan government for Afghanistan Investment Climate Program (AICP), which will run from 2016 to 2023.
The announcement was made by the visiting UK state Minister for International Development Desmond Swayne on Sunday in Afghan Presidential Palace.
Afghan Finance Minister Eklil Hakimi said the AICP aims to improve regulations and government capacity, improve investor protection, develop risk-sharing instrument such as Public Private Partnership (PPP), and provide loans to women entrepreneurs and improve the legal status of women in business.
The AICP will facilitate up to 600 million pound of new private sector investment and create 20,000 formal jobs, according to a statement from the Finance Ministry.
He assured that the aid money would be spent with transparency and a particular mechanism would be put in the place to monitor the process.
The announcement comes as Afghanistan is preparing for two major conferences: the Warsaw conference in July and Brussels in October.
Britain has contributed some 4 billion U.S. dollars to Afghanistan since 2011 and 1.6 billion U.S. dollars have been spent on 13 different projects, the statement noted.
---
---
Related Articles
Afghanistan's first ever domestic refined oil will be introduced in the market. According to Head of Afghanistan's oil and gas
Adela Sanglakhi is a 25-year old entrepreneur from Kabul who owns a startup called Afghan Girls. Her company employs 85
Contrary to what you might expect, Afghans are more worried about money than violence. Last month, President Hamid Karzai issued