Building work starts on new dormitory for up to 400 male students at Balkh University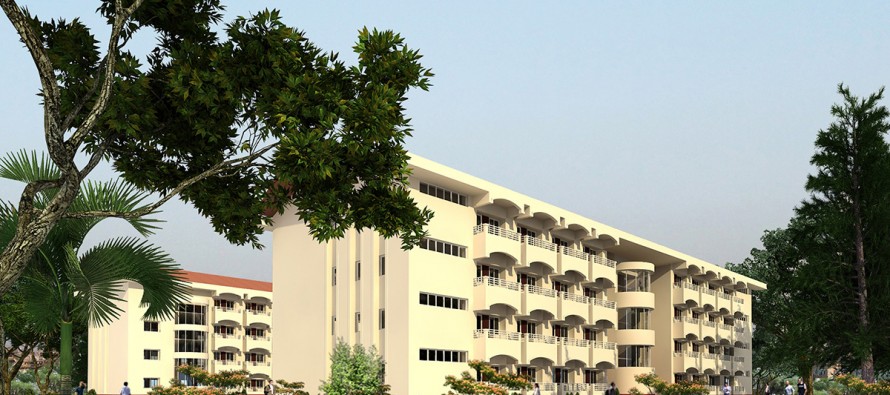 Work on the construction of a new dormitory building for the University of Balkh has officially begun.
Once completed, the dormitories will be able to house up to 400 male students, with 4 students sharing one spacious room. The aim of the dormitory is to accommodate students unable to find proper lodging in other buildings that are at capacity. It will also offer living quarters for students whose homes are too far away from the university to commute.
Completion of the project is planned for April 2016, at which point the building will be handed over to the Afghan Ministry of Higher Education. Funded by the German government, the investment sum will amount to approximately AFN 228 million.
Speaking at the cornerstone ceremony, Prof. Dr. Osman Babury, Acting Minister for Higher Education, mentioned the shortage of housing for Afghan students and said that the new dormitory would meet this need at Balkh University.
For the construction work, between 120 and 150 local builders will now be employed on the dormitory building site, helping to boost the local economy. Additionally, administrative and facility management staff from the university will be involved in the building process to ensure the university can maintain the technical installations properly and at little to no extra cost.
The dormitory building houses 96 bedrooms for up to four students each to share with a total floor surface of over 10,000m2. Besides living space, each of the floors comes with common rooms, studies, TV rooms and kitchens. The construction project will also provide funding to fully furnish all of the students' quarters. The architectural plans are state-of-the-art and are designed to provide ideal learning conditions, with modern, environmentally friendly heating and cooling systems.
On behalf of the German Federal Foreign Office, the Deutsche Gesellschaft für Internationale Zusammenarbeit (GIZ) GmbH has been working with the Afghan Government since 2012 to support five Afghan universities in setting up public policy and administration faculties offering a Bachelor's degree in public administration. Together with the Afghan Ministry of Higher Education, the program for "Strengthening administrative training in Afghanistan" lays the necessary groundwork for standardized training for public sector professionals in Afghanistan. By 2014, over 2,000 Afghan students were studying public administration. Women make up some 15% of all students.
GIZ GmbH helps programs plan and manage infrastructure construction projects, particularly in the fields of education, transport, health and legal security. The Competence Unit for Construction in Afghanistan advises programs on all of their construction issues, from planning and preparation to the actual building work.
---
Related Articles
The Afghanistan government receives USD 75mn in bonus from the International Monetary Fund (IMF) after surpassing the set target for
Afghan Higher Education Minister Dr. Obaidullah Obaid laid the foundation stone for the new building for the Computer Science Faculty
Afghan saffron once again wins the the number rank in the world for its taste among dozens of countries. The