Business tendency deteriorating in Afghanistan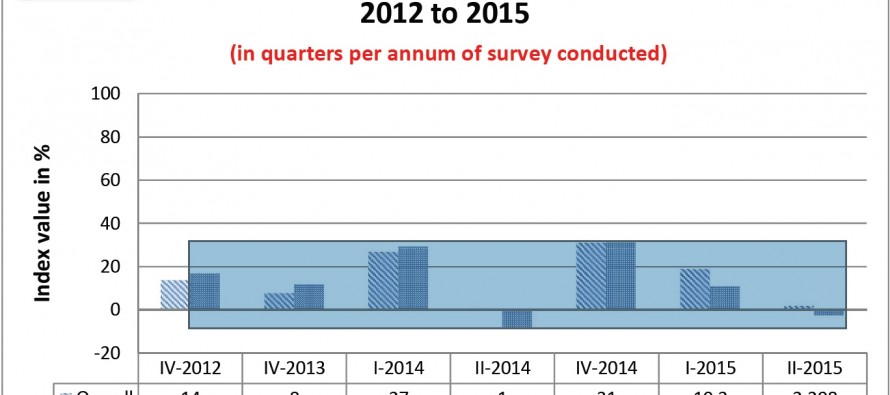 The Afghanistan Chamber of Commerce and Industries (ACCI) released its 7th Business Tendency Survey report which reveals that business condition in Afghanistan has deteriorated in the last three months.
The report was released at a ceremony on 04 August 2015 in the presence of Humayoon Rasaw, Minister of Commerce and Industries, Abdul Sattar Murad, Minister of Economy, Khalil Sediq, Governor of the Central Bank and Gul Maqsood Sabet, Deputy Minister of Finance; and 150 representatives of private sector.
The survey shows that Afghans' enthusiasms created after the establishment of the National Unity Government (NUG) is fading.
According to the survey, business climate remains strong in Balkh and Nangarhar compared to Herat, Kabul and Kandahar.
Construction, trade and services sector have suffered extremely during the last three months, while manufacturing sector remains confident.
Majority of the surveyed companies said their staff volume decreased sharply in the past three months and security was a major concern for majority of the companies.
Furthermore, call for administrative reforms was ranked more urgent than infrastructural developments.
The private sector representatives discussed access to land and finance, electricity situation, Pakistan's tariff's on Afghan goods, extortion on highways, transit trade issues and government's bureaucracy with the officials at the ceremony.
The Afghan officials pledged support for the private sector and to their best to overcome their challenges.
Major findings of the survey:
The business condition has extremely deteriorated during last three months.
Balkh and Nangarhar enjoys comparatively better business condition compared to Herat, Kabul and Kandahar.
Manufacturing remains confident while construction, trade and services have extremely suffered during last three months.
Majority of the surveyed companies say they hire fewer people than three months ago.
Security condition has deteriorated across the regions.
Increasingly more people ask for administrative reform.
For full report, please click here.
---
---
Related Articles
By Ahmad Masoud Blasts caused by low quality gas cylinders, pressure cookers and contaminated fuels are causing burns to thousands
The Council of Ministers last week approved the launch of Afghanistan's first ever space satellite and sent expressions of interest
The European Union has announced a new aid package worth USD 13.4mn (12.3mn Euros) aimed at supporting priorities of the