Capacity building for over 120 civil servants in Badakhshan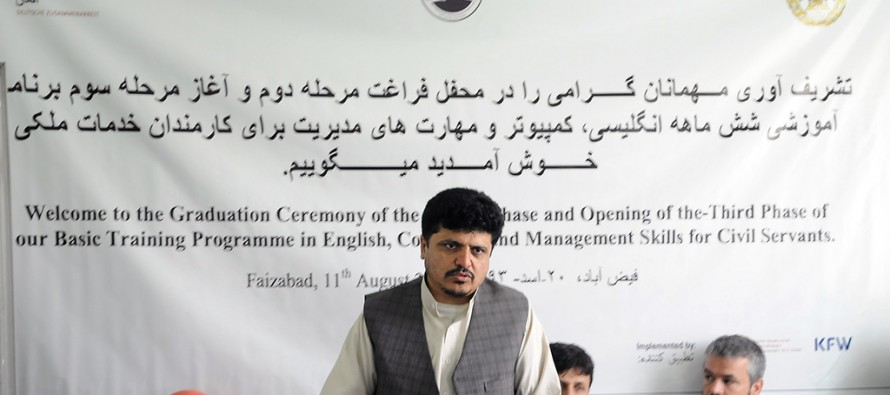 With support from Germany, more than 120 civil servants from various line departments completed six months of IARCSC training in English, management and computer skills in Faizabad. The qualifications will help local government provide more efficient services for the population in Faizabad and the surrounding districts.
Dr. Gul Mohammad Baidar Deputy Governor of Badakhshan, Abdullah Yousofi Coordinator for all CSC training centers in Afghanistan and Abdul Ghafor Ferogh Head of Economy Department, officially congratulated more than 120 civil servants for passing the second phase of a six-month course for civil servants in English, computer and management skills.
The civil servants attending the training came from 23 line departments, including the departments of education, agriculture, water management, telecommunications, public works and finance and from the Provincial Governor's Office. The participants received training in computer software important for their everyday work, in English to improve communications with international organisations and in management for more efficient processes in the departments. With their new knowledge and qualifications, the civil servants will now be in a better position to serve the population of Faizabad and the surrounding districts. As previous participants state, the training helps civil servants cooperate closely within local government structures and process citizens' requests more quickly and effectively than before.
The Independent Administrative Reform and Civil Services Commission (IARCSC) of Badakhshan Province organized the training, which was requested by the Badakhshan Provincial Development Committee (PDC). The IARCSC, whose duty is to "lead reforms, prepare and develop public administration policies and monitor and evaluate implementation process of reforms" was established in accordance with the Bonn Agreement. Based on a presidential decree from 2003, one of the IARCSC's main tasks is to develop the capacities of civil servants so that line departments can deliver quality services in a transparent manner to the population. The legal foundation for the commission and its structure was laid with ratification of Afghanistan's civil service law, based on Article 50 of the Afghan Constitution.
The project received funding and technical support from the German Federal Ministry for Economic Cooperation and Development (BMZ) through the "Regional Capacity Development Fund" (RCDF) in Badakhshan. As part of Afghan-German Cooperation, the RCDF is implemented by Deutsche Gesellschaft für Internationale Zusammenarbeit (GIZ) GmbH. In six Northern provinces of Afghanistan, the RCDF supports the development priorities of the Afghan partners at the provincial and district level, while providing training and coaching programmes for civil servants. With its broad range of activities, the RCDF aims to increase Afghan ownership of the development process, strengthen Afghan state institutions on the subnational level and promote transparency and inclusiveness.
---
---
Related Articles
To attract Afghan youths into sports, the Afghan Ministry of Counter-Narcotics is funding the construction of a gymnasium in the
Leaders from the Government of the Islamic Republic of Afghanistan opened a school in Talukan village with a ribbon cutting
The sustainable maintenance and operation of schools in Afghanistan is a very important issue. Architects, engineers and technical experts are