Career center inaugurated at Kabul Education University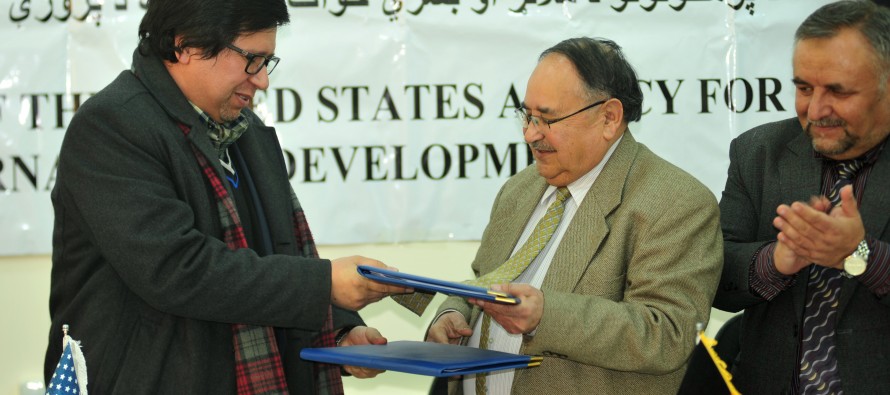 The University Support & Workforce Development Program, a USAID funded project, inaugurated a career center at the Shaheed Ostad Rabbani Education University on Monday.
More than 20 private companies along with leadership of Shaheed Ostad Rabbani Education University and USWDP attended the inaugural ceremony of the career center and the introductory meeting of University Industry Advisory Council for Shaheed Ostad Rabbani Education University.
Ms. Ameena, 23, is one of 135 students who have gotten an internship through a university career center. As a senior medical student at Kabul Medical University, she attended 40 hours of skills training in resume and cover letter writing, social networking, job research and interview preparation.
As a result, she got an internship as a First Aid trainer with the Afghanistan Holding Group. She loves the opportunity.
"I have never worked in an office environment before," Ameena said. "So interacting with each individual and managers at the training was a different experience altogether and helped me learn how to behave in an office environment."
USAID also sponsors career centers at Kabul Polytechnic University, Kabul Medical University, Herat University, Balkh University, Kandahar University, Nangarhar University and Kabul University.
USWDP Career Center/Field Office will serve as center of excellence to improve alignment between the world of schooling and the world of work. Students will be assisted in these centers to enhance their knowledge and skills to compete in the job market. A wide range of market oriented training and capacity development activities will be conducted at these centers to help students qualify for open competition in the local job market.
The USWDP Career Center/Field Office host the University Industry Advisory Council (UIAC) that will advise the university on the needs of the market in Afghanistan. The Shaheed Ostad Rabbani Education University UIAC includes entrepreneurs, industry representatives, and interested faculty members, alumni, and students.
It will keep abreast of developments in particular industries, advise faculty and administrators on the design of curricula to ensure it is aligned with the demands of the market, invite industry representatives for talks at the USWDP field office/career center, arrange learning experiences, provide internships for students, and so on and so forth.
---
---
Related Articles
Media had recently claimed that the contract granted to the Chinese firm on oil exploration at the Amu River basin
Pajhwok Afghan News Weekly Price Report: Reversing an earlier dip, the Afghani edged up against the US dollar in Kabul
Afghan Ministry of Labor and Social Affairs officials have expressed concerns at the increasing number of jobless individuals in the