Celebration of International Women's Day in Mazar-e Sharif, Balkh Province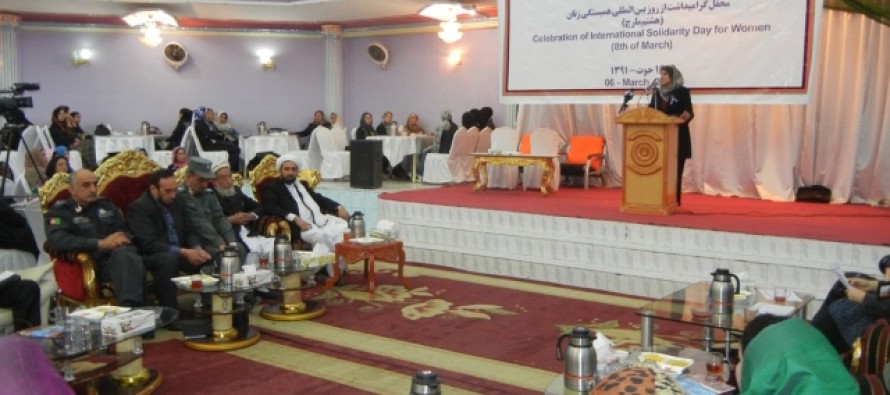 On March 6th 2013 the celebration of International Women's Day took place in Mazar-e Sharif, Balkh Province. The Secretary of the Provincial Council, Mrs. Shekiba Shekeb, the acting Director of the Provincial Department of Women's Affairs, Mrs. Rabia Moradi, were present. Also, the Direc-tor Department of Economics, Abdul Rahmaan Samdi, the economics expert for the provincial Gov-ernor's office, Mohmaad Wali Sangaar , and the director of Hajj and religious affairs, Malawi Ha-yatullah Qarizada, were attending, as well as other representatives from the provincial government of Balkh, civil society and representatives of Afghan-German Development Cooperation attended the celebration.
The celebration was organized by the Balkh Department of Women's Affairs (DoWA). As the leading department for promoting women's rights in Balkh, it has been celebrating International Women's day for the last eight years. Through this event, DoWA is aiming at stressing their role as a govern-mental institution, which is supporting women in various spheres of life and empowering them for a better future. Another important message of this day is that everyone in society – women, men and children – need to work together to end inhumane acts of violence.
Since 1913 the International Women's Day is being celebrated on the 8th of March all over the world with the sole aim of advocating, empowering and helping women worldwide to eliminate discrimi-nation against women. It is also focused on helping women gain full and equal participation in na-tional and global development.
This event was supported by the Regional Capacity Development Fund (RCDF) Balkh. As part of the Afghan-German Cooperation, the RCDF is financed by the German Federal Ministry for Economic Cooperation and Development (BMZ) and implemented by Deutsche Gesellschaft für Internationale Zusammenarbeit (GIZ) GmbH.
In five Northern provinces of Afghanistan, the RCDF is supporting the development priorities of the Afghan partners at provincial and district level, while at the same time providing training and coaching programmes for civil servants. With its broad range of activities, the RCDF programme aims to increase Afghan ownership, strengthen Afghan state institutions, and promote transparency and inclusiveness in the national development process of Afghanistan.
---
---
Related Articles
On March 6th 2013 the celebration of International Women's Day took place in Mazar-e Sharif, Balkh Province. The Secretary of
The Afghan private sector will invest USD 30mn in the establishment of five smelting factories across Afghanistan. The factories are
Amid extensive security measures taken for a consultative Loya Jirga thousands of vehicles laden with fresh fruits and vegetables are