China asserts cooperation with Afghanistan in rebuilding process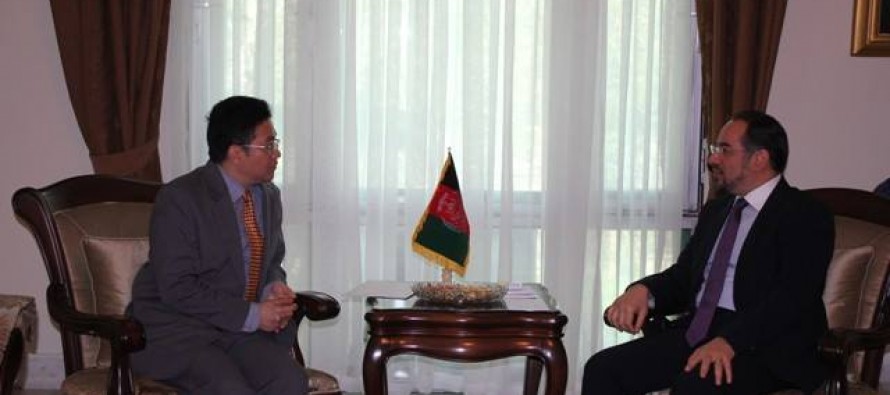 China's ambassador to Kabul, Den Xijun assured the Afghan government that China would continue its cooperation regarding insuring peace and stability and national reconciliation.
The ambassador met with the Afghan Foreign Affairs Minister Salahuddin Rabbani in Kabul on Sunday.
"Insuring peace and stability in Afghanistan is not only important for the people of Afghanistan, but also for the neighboring countries, region and the world," adding that "China will not hesitate to cooperate and make efforts in this regard."
He stated that as per the promise of China's president to President Ashraf Ghani, two teams of Chinese experts would be sent to Afghanistan. The first team will discuss with the concerned authorities to draw up the framework of the 2bn Chinese yen aid which is going to be paid 500mn annually from 2014 to 2017. The second team, headed by the Chinese Reform and Development Commission, will visit Afghanistan in the coming month and work together with the Afghan experts, in order to provide short term and long term programs for the National Economic Development of Afghanistan, Energy, Mining, Housing, and other needed areas.
The two parties also conferred on the Silk Route Economic Belt.
"The government of Afghanistan appreciates the aforementioned draw up and suggestion and is ready to cooperate with the friend People's Republic of China in this regard," said Rabbani.
He thanks China for its support and said Afghanistan has witnessed positive development as a result of China's involvement and cooperation in the rebuilding process.
---
---
Related Articles
At a press conference in Mazar-e-Sharif, Public Works Minister Najibullah Awzhan said work on a railroad between Balkh and Tajikistan
Afghanistan's electricity company, Da Afghanistan Breshna Sherkat (DABS), installed two new electricity transformers in western Herat province. Funded by DABS,
Afghan government has welcomed the Food Fortification Program of the Khalifa bin Zayed al Nahyan Foundation that is aimed at