China has its eyes on Afghanistan's minerals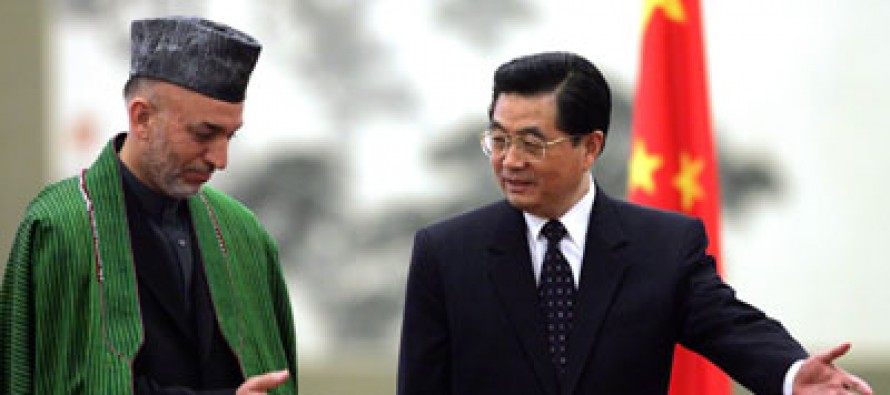 In the approaching twilight of the US war in Afghanistan, China is stepping up its involvement, attracted by the country's trillion dollar worth of minerals.
China, who has long been a bystander to the conflict in Afghanistan, could prove to be the ultimate winner in Afghanistan and that without a single shed of blood.
They have already hit the jackpot by winning the billion dollar investment project in Logar's copper mine. Afghanistan's lithium, the key raw material for batteries to nuclear components, is the next potential target. But, do they seem to be going forward?
Security remains a challenge to the Chinese.
"While the Chinese do not appear ready to rush into any vacuum left by the withdrawal of foreign troops, a definite shift toward a more hands-on approach to Afghanistan is under way." ABC News
Currently the world's second largest economy, China is hungry for resources to sustain its growth.
"If you are able to see a more or less stable situation in Afghanistan, if it becomes another relatively normal Central Asian state, China will be the natural beneficiary," says Andrew Small, a China expert at The German Marshall Fund of the United States, an American research institute. "If you look across Central Asia, that is what has already happened. … China is the only actor who can foot the level of investment needed in Afghanistan to make it succeed and stick it out." ABC News
Over the past decade, China's trade has boomed with Afghanistan's resource-rich neighbors in Central Asia. For Turkmenistan, China trade reached 21 percent of GDP in 2011, up from 1 percent five years earlier, according to an Associated Press analysis of International Monetary Fund data. The equivalent figure for Tajikistan is 32 percent of GDP, versus 12 percent in 2006. China's trade with Afghanistan stood at a modest 1.3 percent of GDP in 2011.
Given Afghanistan's strategic location, China would not fall behind in involving themselves in Afghanistan.
Afghanistan has long been an Asian crossroad due to which superpowers have historically stepped on Afghanistan's soil.
"It's unquestionable that China bears the responsibility to participate in the political and economic reconstruction of Afghanistan," he says. "A stable Afghanistan is of vital importance to (China). China can't afford to stand aside following the U.S. troop withdrawal and in the process of political transition," quotes ABC News a Central Asian expert at Beijing University, Wan Lian.
The Chinese government is definitely playing smart. They are showing a keener interest in improving Afghanistan's security situation and the transition process, but they are being careful. They realize they "lack expertise in a complex political landscape that has tripped up other great powers."
"The Chinese are ambiguous. They don't want the Taliban to return to power and are concerned about a vacuum after 2014 that the Taliban could fill, but they also don't like having U.S. troops in their neighborhood," ABC News quotes Afghan Institute for Strategic Studies in Kabul, Davood Moradiyan.
Should the Chinese step into the peace process, either as a principal intermediary or through Pakistan, they could carry considerable weight.
According to Mr. Moradiyan, Afghan government has backed off from their earlier criticism that the Chinese presence in Afghanistan is for the sheer benefits it can reap from Afghanistan and not for contributing their share to security and reconstruction of the country.
---
---
Related Articles
The 9th World Islamic Economic Forum (WIEF) will be held on 29-31 October 2013 in London. This is going to
Ministry of Finance signed a USD 124 million contract with the World Bank on Sunday to fund the construction of
In a bid to expand its services, Safi Airways have added two planes in the company's fleet. According to the