Civil Servants and Young Academics train to serve their Communities in Kunduz Province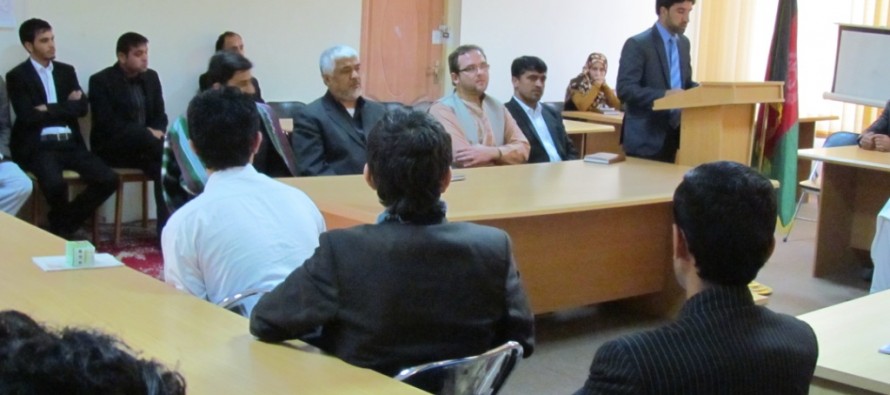 On, March 31rd 2013, the second phase of a twelve month basic training for civil servants took off at the facilities of the Independent Administrative Reform and Civil Service Commission (IARCSC) in Kunduz Province. Head of the IARCSC, Mr Haji Jalil Hamidi, as well as other employees of the IARCSC and members of the German Cooperation with Afghanistan attended the opening ceremony.
Around 130 young civil servants from different departments as well as university graduates were selected for the second six month phase, among them 50 women. The trainees will be taught admin-istrative management, computer courses and English language lessons. The training will help them meet the requirements of their working life and improve the service the provincial government provides to the people. 135 trainees, among them 40 women, took part in the first six month phase of the training, which ended in March.
The Provincial Development Committee (PDC) Kunduz decided on implementing the Basic Train-ing for Civil Servants of the IARCSC Kunduz. The scheme is supported by the Regional Capacity Development Fund (RCDF) Kunduz, which is financed by the German Federal Ministry for Econom-ic Cooperation and Development (BMZ). As part of the German Cooperation with Afghanistan, the RCDF is implemented by Deutsche Gesellschaft für Internationale Zusammenarbeit (GIZ) GmbH.
The RCDF is supporting the development priorities of the Afghan partners at provincial and district level in five Northern provinces of Afghanistan while at the same time providing training and coaching programs for civil servants. With its broad range of activities, the RCDF aims to increase Afghan ownership, strengthen Afghan state institutions and promote transparency and inclusiveness. It assists the national development process of Afghanistan.
---
---
Related Articles
The World Trade Organization (WTO) formally adopted Afghanistan's terms of accession into the renowned multilateral trading organization at the WTO's
When Kabul University reopened after the fall of the Taliban in March 2002, Purdue University professors Kevin McNamara and Zarjon
The Indian and Afghan governments signed a tripartite Memorandum of Understanding (MoU) for additional 87 projects worth USD 25mn under