Civil servants in Badakhshan completed basic training with German support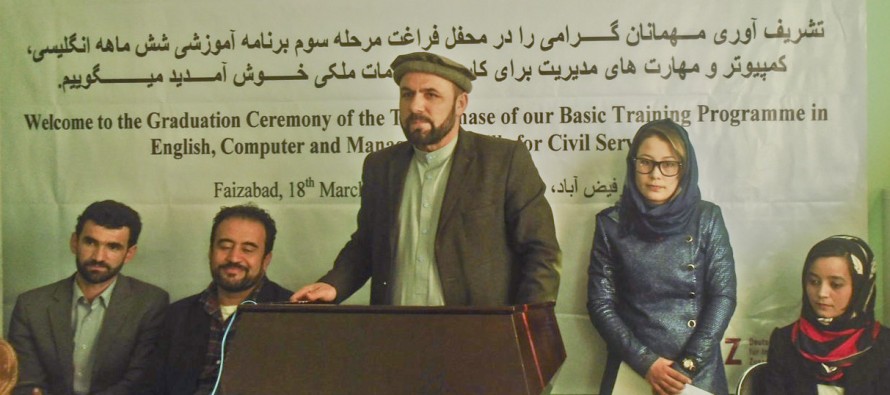 120 civil servants from more than 14 public institutions successfully completed a six-month basic training on English language, computer programs and management skills in Faizabad, the capital of Badakhshan province.
This training was conducted by the Independent Administrative Reform and Civil Services Commission (IARCSC) of Badakhshan at a cost of around AFN 1,600,000. The goals were to enable civil workers to use office software, to communicate effectively in English and to enhance operational skills in civil service management.
Employees from the Provincial Governor's Office, the Departments of Education (DoE), Economy (DoEc), Agriculture (DAIL), Rural Rehabilitation and Development (DRRD), Finance (DoF) as well as the Department of Women Affairs (DoWA) participated in the training.
Speaking at the graduation ceremony, the Acting Governor of Badakhshan, Dr. Shah Wali Allah Adib said "training on computer programs, English language and management skills are hugely important for the capacity development of civil servants. In the end, this will boost good governance and better service delivery to the population."
Mr. Ghulam Farooq Qatee, director of integration, coordination and training for civil services institute of IARCSC in Afghanistan added "with the completion of the six-month basic training, the participants are now familiar with a new skill set which enables them to fulfil their responsibilities. I would like to encourage the local public servants to deliver better services to the community and strengthen their satisfaction and trust with the government."
The speakers were joined by over 200 representatives from Badakhshan's line departments and the Provincial Council as well as participants of the training.
The implementation of this project was approved by the Badakhshan Provincial Development Committee (PDC). The basic training programme was managed by IARCSC Badakhshan and supported by the Regional Capacity Development (RCD) programme in Badakhshan, which is financed by the German Federal Ministry for Economic Cooperation and Development (BMZ).
As part of Germany's cooperation with Afghanistan, the RCD, which is financed by the German Federal Ministry for Economic Cooperation and Development (BMZ), is implemented by Deutsche Gesellschaft für Internationale Zusammenarbeit (GIZ) GmbH. In six provinces in northern Afghanistan, RCD supports its partners' development priorities in the provinces and districts, while at the same time providing training and coaching programmes for civil servants. With its broad range of activities, the RCD aims at increasing Afghan ownership of the development process, strengthening state institutions and promoting transparency and inclusiveness.
---
---
Related Articles
Ghazni is preparing itself for next year's ceremony when the province will be officially receiving its title as the center
Head of the central bank warns about the smuggling of US dollar out of Afghanistan through the borders and links
Afghan Second Vice President Mohammad Karim Khalili said Afghanistan is ready for the withdrawal of foreign troops and to take