Civil servants in Balkh complete course in English and computing provided with German aid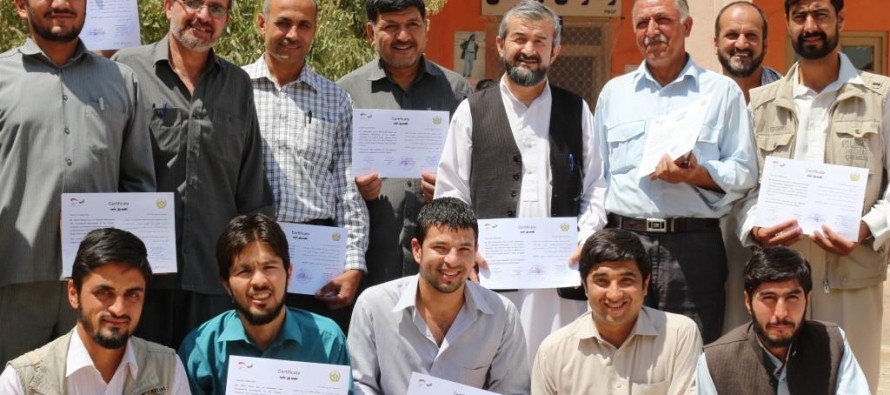 18 civil servants from various line departments successfully completed six months of training in English and IT skills.
The certificates and qualifications they received during the training will enable the government employees to improve processes required for their work. With better language skills, they will be able to work together with international organizations on development programs. The civil servants will also be able to work with new computer and IT equipment supplied by Afghan-German Cooperation and can now fulfil the province's citizens' requirements for services. Until now, the district administration lacked proper access to technical tools and modern equipment to do their daily tasks professionally.
At the certification ceremony, Shir Mohammad Abo Tariq, District Governor of Nahr-e-shahi District, and Abdul Ghafoor Azizi, deputy district governor of Nahr-e-Shahi district congratulated the civil servants on their success. Mohammad Abo Tariq said, "We would like to thank Germany for its support, which has enabled us to switch from doing our work by hand to computerized processes". Besides members of Balkh's provincial government, representatives of Afghan-German Cooperation were also there to congratulate the government employees.
Nahr-e Shahi is one of 14 districts in Balkh province, with a population of 43,700 in 120 villages. The training and IT supply project addresses the needs of civil servants working in Nahr-e Shahi for modern technology and training in public administration so they can offer district residents better and timely services. The needs assessment conducted by the Independent Administrative Reform and Civil Service Commission (IARCSC) in early 2013 with the support of Regional Capacity Development Fund programme in Balkh.
As part of the Afghan-German Cooperation program, the RCDF is implemented by Deutsche Gesellschaft für Internationale Zusammenarbeit (GIZ) GmbH. The RCDF provides supports for its Afghan partners' development priorities both on a provincial and a district level in six of Afghanistan's Northern provinces. At the same time, the RCDF provides training and coaching programs for civil servants. With its broad range of activities, the RCDF aims to increase Afghan ownership of the development process, strengthen Afghan state institutions on the sub-national level and promote transparency and inclusiveness.
---
---
Related Articles
Kandahar officials claimed that they did not receive their development budget of USD 35mn allocated for the current fiscal year.
The United States Agency for International Development (USAID), in partnership with Afghanistan's Ministry of Commerce and Industries, held a five-day
Officials at the Ministry of Mines on Tuesday said 25 international companies would compete for the exploration and extraction of