Collaboration between SAARC Development Fund and UNDP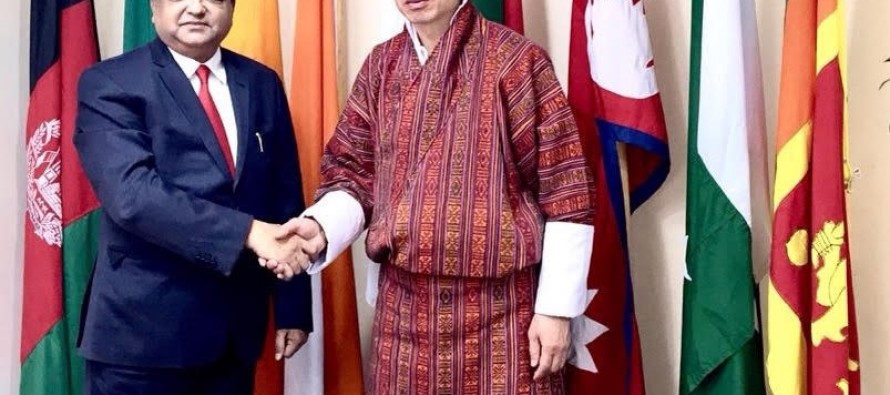 Haoliang Xu, United Nations Assistant Secretary General and UNDP Regional Director for South Asia and Pacific visited the SAARC Development Fund Secretariat and assured to work together for strategic growth of SAARC Member States and to achieve the United Nations Sustainable Development Goals.
A Memorandum of Understanding (MoU) between the SAARC Development Fund and UNDP was already signed in 2015, by Haoliang Xu, UN Assistant Secretary General and Dr. Sunil Motiwal, CEO, SDF during Annual Management Committee Meeting of UNDP at Kuala Lumpur, Malaysia. The Key goal for the MoU is to collaborate for the advancement of the 2030 Agenda in the South Asia countries especially SAARC Member States.
According to SDF CEO Dr. Sunil Motiwal, SAARC Development Fund has already started their cooperation by co-financing two UNDP projects in the SAARC region approved by the SDF Board which are:
"Economic Empowerment of Women through Energy Access in Mountain Countries of South Asia". The objective of this project is to empower women in the mountainous regions of South Asia namely Nepal, Bhutan, Bangladesh and Pakistan through access to sustainable energy services to contribute towards achieving the goals of economic empowerment of women while simultaneously targeting better health and gender equality. SDF has committed USD 3.1 million for 50% of the total budget of USD 6.2 Million in the form of financial co-funding. The project is aimed at 11,840 households, 50 entrepreneurs and 500 community members as direct beneficiaries and 121,317 persons and 150 women entrepreneurs as indirect beneficiaries.
"Support to Value Chain development, Entrepreneurship and Skill Development and Improved Connectivity" which primarily focuses on improving the economic livelihood of marginalized communities and promote creative industries. This is a unique and innovative project which adopts a regional approach to enhance economic opportunities for MSMEs through value chain development. SDF has committed USD 7.8 million for 50% of the total budget of USD 15.7 million in the form of financial co-funding. The project is aimed to target 163,400 persons as direct beneficiaries in the components of social protection, financial inclusion, SME export capacity improvement and at least 0.5 million people as direct beneficiaries.
SAARC Development Fund and UNDP are in the process of signing the Project Financing Agreements for the projects and it is expected that implementation of these two projects will commence soon.
---
---
Related Articles
With the Eid-ul-Adha approaching, thousands of goats, cows and sheep are brought into the markets in Peshawar to sell. Hundreds
Helmand Governor Muhammad Naeem planted the first sapling to mark the beginning of the spring tree-plantation drive on Saturday. Addressing
An Afghan local company has imported one of the world's fastest and strongest fire extinguishers called Ice Ball. The product